Choosing the floor has a considerable impact on your home's appearance. First, you want your bathroom, living room, bedroom, or office flooring to look gorgeous, while the performance (despite its importance) will probably be your second priority.
When choosing bathroom flooring, you need to consider how it will perform under severe stress, which in this case is water. Yet, this stress is an exception, not an anomaly.
Water drops can ruin poor flooring. Before choosing the typical options for flooring, you should consider other factors like durability, appearance, cost, ease of installation, etc.
Below, we will discuss some essential factors and their pros & cons when choosing a particular flooring type. Then, we will go over a few types of flooring you may like in your bathroom.
Considerable Bathroom Flooring Points
When it comes to bathroom flooring, you have many options. Yet, choosing the best one depends on your needs and conditions.
You can go for bathroom flooring trends in 2022 by only considering your unique circumstances. For instance, "is the chosen flooring prone to slipping?"
By focusing on what you want and need, you can choose the exact type of flooring based on your needs.
Durability
For the main bathroom that the entire family uses daily, SPC bathroom flooring may be the best option. While peel-and-stick vinyl (or other similar types) can be ideal for low-traffic bathrooms such as guest bathrooms, these flooring options can cut costs significantly.
Thus, durable flooring options are the only key for busier bathrooms.
Use the proper installation method.
If you want an error-free bathroom flooring installation, you need to spend the extra cash and get professional help.
If you insist on saving money by doing the project yourself, consider DIY-friendly flooring options (like DIY wood flooring).
Easy maintenance
Nobody said, "Cleaning the bathroom floor is my favorite pastime." We always want easy-maintenance flooring, like some Vinyl bathroom flooring type.
Water-resistant flooring or waterproof flooring?
The best bathroom flooring, like mudroom flooring, should handle getting wet. So, using options like magnetic flooring brands or hemp flooring cannot be a good idea.
Also, you need to consider whether you need a waterproof floor or a water-resistance floor. Bathroom flooring waterproof, as its name suggests, is impervious to water. Water-resistance flooring might handle spills, but it won't handle large amounts of water. This problem can cause consequential damage over time. So, you must consider how much water winds up on the floor.
The Best Bathroom Flooring Ideas
Let's dive into the seven best ideas for bathroom flooring.
Luxurious bathroom flooring: vinyl plank/tile (LVP / LVT)
Many people think LVP is the best option for kitchen flooring, but it can also be an option for bathroom flooring.
You may ask yourself what exactly "luxury vinyl" is. Luxury bathroom flooring vinyl is a form of PVC flooring and consists of three layers:
A transparent wear layer protects the planks from damage.
A core layer (base layer) offers rigidity and structure.
A layer designed to mimic wood or tile.
Remember, vinyl plank is the same as vinyl tile, and you can use them interchangeably.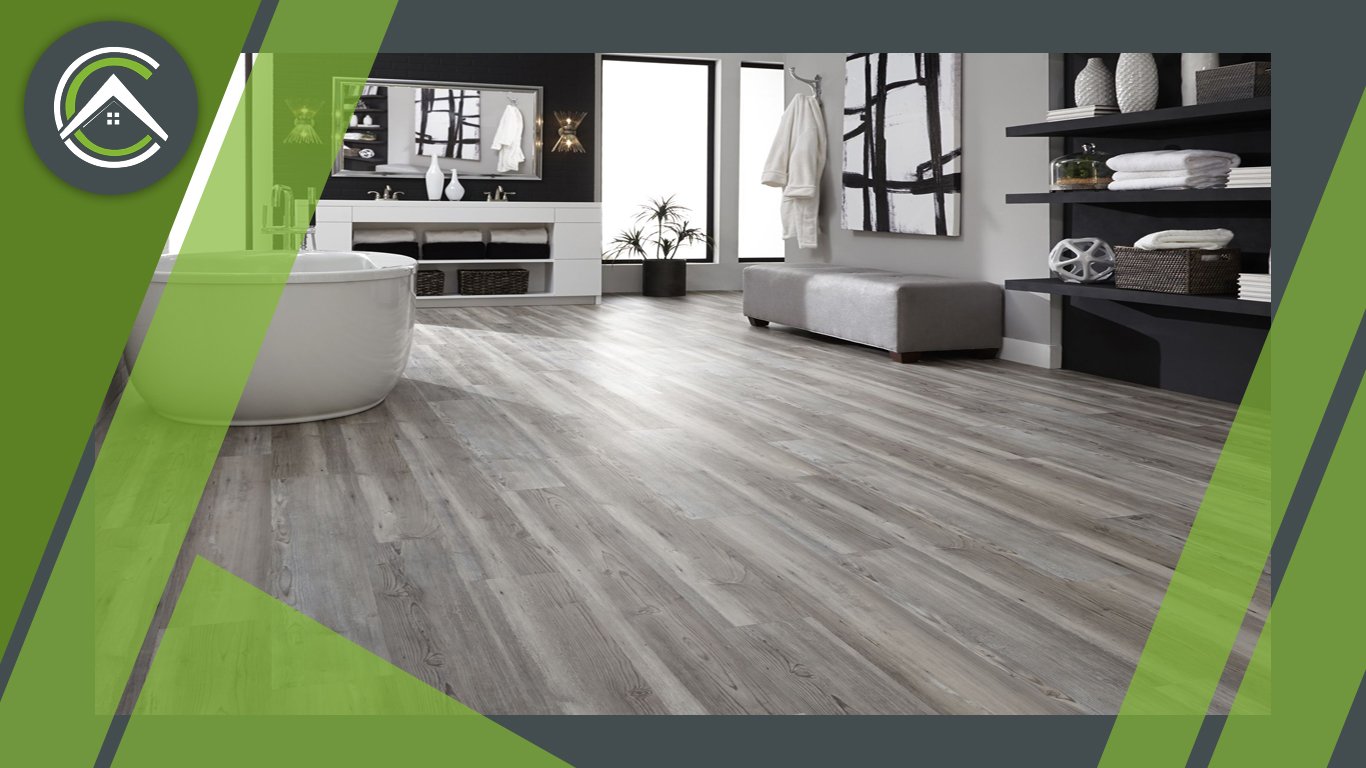 Vinyl sheet: the other option for bathroom flooring
Basically, a vinyl sheet is your grandma's vinyl—the single sheet of vinyl lying on the subfloor. It is not as delightful and durable as LVP, but sheet vinyl has its own advantages! There are no gaps for leaking water when spills inevitably occur.
Remember, we never suggest sheet vinyl over LVP, but it can be an option when looking for bathroom flooring options.
Advantages of luxury vinyl (LVP)
Almost vinyl flooring is waterproof. Vinyl is a rock-solid choice for the bathroom due to this characteristic.
Easy to install: Vinyl plank is simple to install. Moreover, maintaining LVP flooring is easy.
Disadvantages of luxury bathroom vinyl (LVP)
Yet, although LVP is still among the top creative bathroom flooring choices, it has its drawbacks.
Vinyl flooring emits VOCs (Volatile Organic Compounds). Vinyl consists of plastic, so it often emits high levels of VOCs. VOCs are the chemicals that give off the new car smell and almost every chemical product. A low level of VOCs cannot be harmful to one's health.  So, ensure that the vinyl flooring you install is low-VOC certified.
Remember that almost every type of flooring emits VOC.
hard to repair
Despite the easy maintenance of vinyl, you cannot repair it when it gets scratched. In most cases, you should throw away the damaged vinyl, which is not environmentally friendly at all.
Bathroom Flooring Tiles (Ceramic and Porcelain)
One of the first options that come to mind for bathroom flooring is tile.
Ceramic vs. porcelain tile
Despite all the similarities, there are slight differences between ceramic and porcelain. Both consist of natural clay, which is heated at high temperatures to make them hard and sturdy. But porcelain needs higher temperatures, so it is more durable than ceramic. Due to that, porcelain is a slightly better choice for bathroom flooring.
Bathroom flooring tiles come in various styles.
Both porcelain and ceramic tile have different shapes, styles, sizes, colors, and designs. You can go for classic white square tiles or wood-look tiles; the choice is yours.
Tiles are waterproof.
Porcelain or ceramic tiles are both excellent choices for wet room flooring.
Tile flooring is waterproof if:
Installed correctly
Use a high-quality brand.
Just a slight mistake in grouting can seep water into the subflooring and cause real damage. All signs show you need to hire bathroom tile contractors for this.
The tile is child-friendly.
The tile is kid-friendly because of its super-durability and ease of cleaning.
Disadvantages of tile for bathroom flooring
Hard to install: Working with tiles requires skills, even if using DIY-friendly A slight mistake in installation can be costly. Moreover, we would not recommend snap-together tile flooring at all.
Get slippery: Getting slippery is the biggest knock against tiles, especially if they get wet. For older adults with less steadiness on their feet, tile might not be the best choice.
Hardwood
You might think a genuine wood bathroom floor is like a world peace dream or a real-life Jurassic Park. But hardwood is versatile and among the best options for bathroom flooring!
Solid vs. engineered hardwood
First of all, let us look at the two main wood flooring options:
Solid hardwood: solid hardwood is pretty straightforward, and its wood plank is the same throughout.
Engineered hardwood: Engineered hardwood is genuine wood composed of a thin hardwood veneer placed on top of a plywood or HDF base layer.
Not all engineered woods are waterproof and suitable for bathroom flooring. Some brands, like Proximity Mills, offer high-quality waterproof wood flooring that may be the best option for your needs.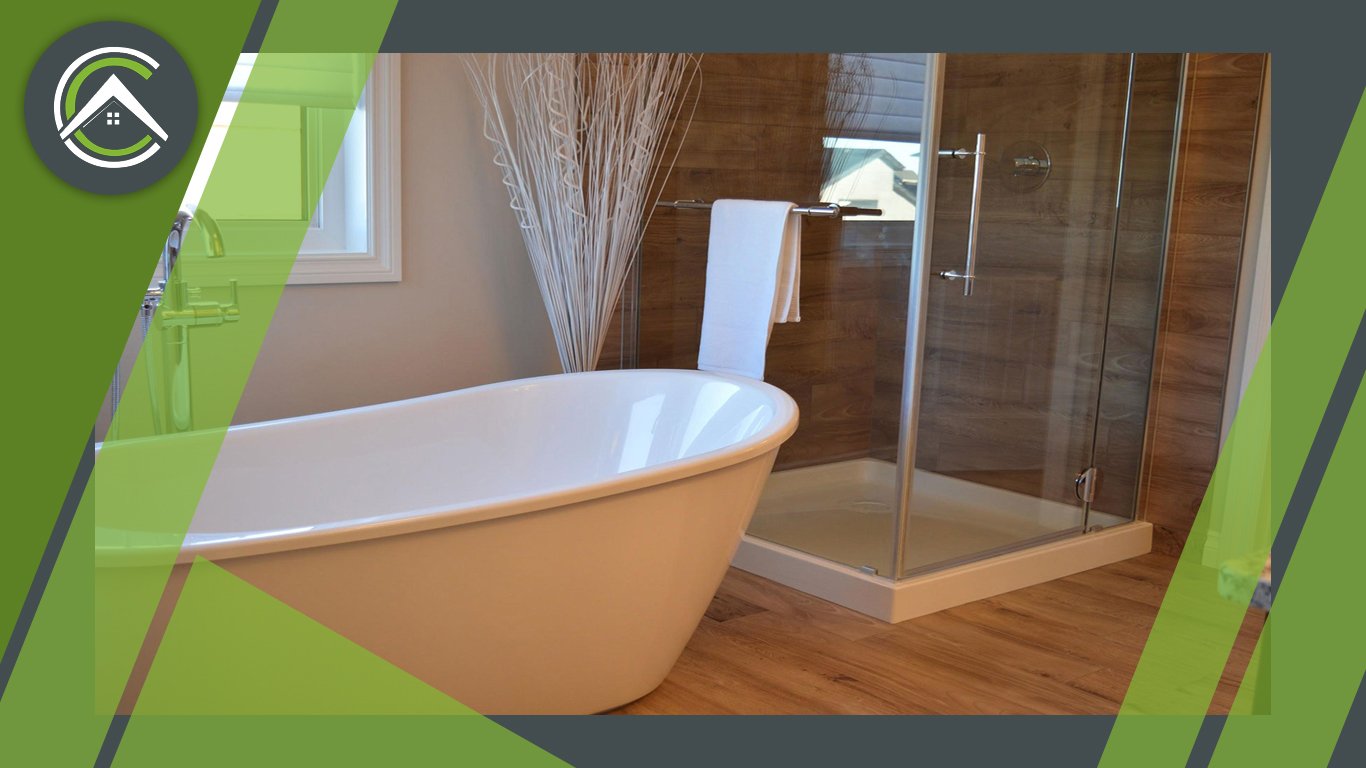 The advantages of hardwood for bathroom flooring
Waterproof hardwood is constantly getting better and becoming a more versatile option for bathrooms.
Naturally beautiful: with a wide range of wood floor colors and designs, they can add beauty to any space.
Cannot easily warp: Engineered wood (due to its engineered core) is more stable than its solid wood counterparts. It prevents any accidental shrinkage or swelling.
disadvantages of hardwood
Hardwood, like other materials, has its own disadvantages that you may want to consider before committing it to your bathroom.
Engineered wood cannot often be refinished. Because of the thin wood veneer, it cannot be refinished as often as solid wood. There is a point here: the best and well-made engineered wood will not need to be refinished more than once or twice. It means you don't need to worry about the cost.
Hardwood cannot be completely impervious to water. Always remember that wood floors are susceptible to water damage. Thus, they are not suitable options for the main bathrooms that the entire family uses daily. If you want to install them, make sure to install water-resistant or waterproof brands. Additionally, it's best to install pre-finished wood floors, as factory finishes are impervious to water.
Natural stone tile
Porcelain and ceramic are not the only tiles on the current market; you can still think of other beautiful options!
Natural stone tiles consist of real stones like granite, marble, limestone, travertine, etc.
They are costly and gorgeous, giving a unique and elegant appearance to your bathroom.
The advantages of natural tile
It will draw everyone's attention:
Natural stone is luxurious and can boost your bathroom's appearance easily.
Ultra-strong
Natural stone is durable and lasts a lifetime. When you go for natural stone, it is reassuring that you will not need to redo your floor for a long time.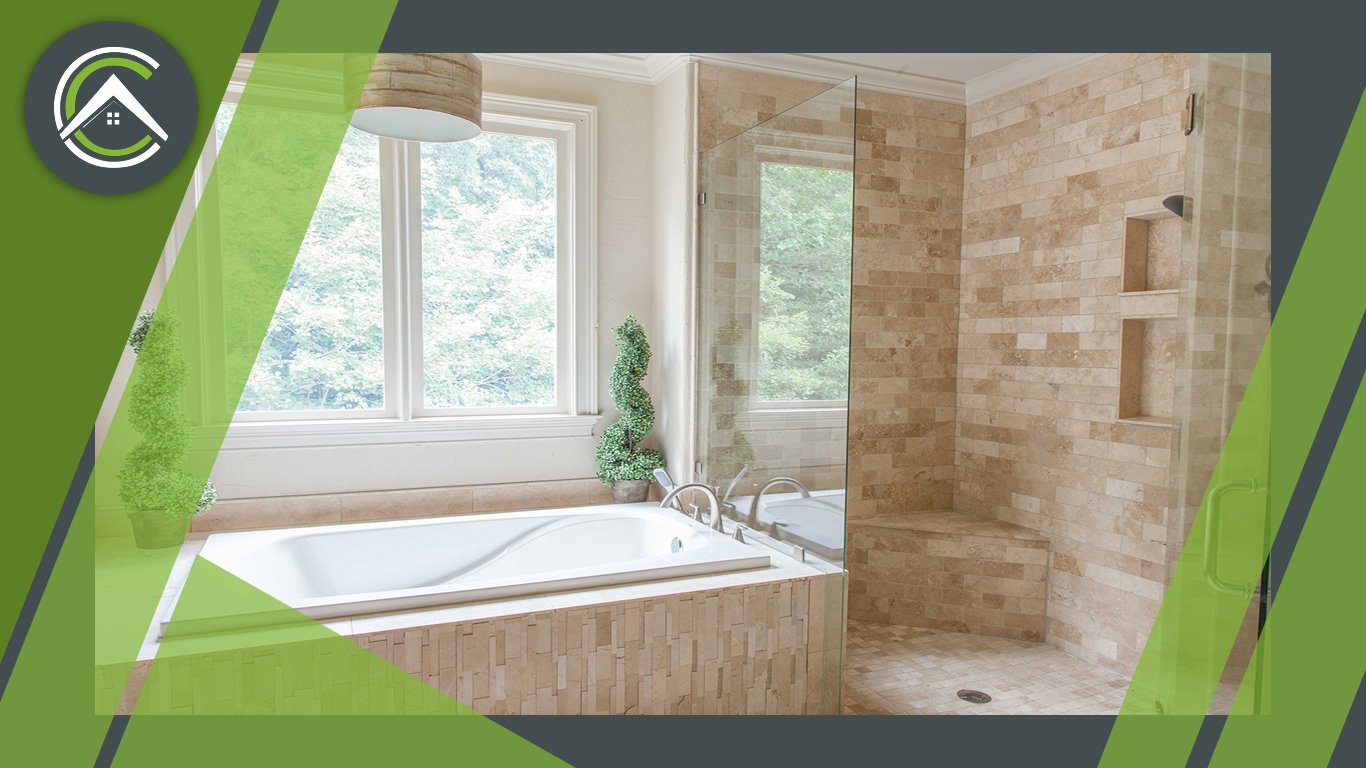 Disadvantages of natural stone tile
Just because natural stone is a super-gorgeous option doesn't mean it has no drawbacks.
It's costly; natural stone is the most expensive flooring option. Moreover, stone tile installation is not easy, and you need a professional to come and install it.
It needs frequent maintenance. Despite its sturdy and unbreakable nature, its maintenance is not easy. It is also fragile and susceptible to scratches and stains. If you want them to last well and be waterproof, you'll need to reseal them every few years.
Laminate bathroom flooring
The other flooring option is laminate if it is waterproof and properly installed. Laminate flooring doesn't stand a chance as bathroom flooring if it is not waterproof.
Laminate flooring, unlike engineered wood flooring, consists of a wood-image layer. So, they are less durable, and refinishing them is almost impossible.
Not all laminate flooring brands are waterproof.
If you go with laminate flooring in your bathroom, make sure to choose a waterproof brand.
Remember, reputable brands usually carry some types of waterproof laminate flooring.
Stained concrete
Believe us, stained concrete is beyond your imagination!
It is a solid slab of poured concrete, and if it is added to the surface layer, it makes it impossible to crack or chip. Moreover, it is the cheapest, toughest, and longest-lasting bathroom flooring material. It means you will save money in the short and long term (due to its high durability).
Disadvantages of concrete for bathroom flooring
Keep in mind that concrete isn't naturally waterproof and needs to be sealed to keep out water. Moreover, it would not be a comfortable option because it can often be cold and slippery when getting wet.
You can reduce its slipperiness by adding some texture upon installation, but you cannot do anything about its coldness. So, if the cold really bothers you, it's better to avoid installing it in your bathroom.
Also, bathroom flooring made of concrete hurts your resale value. Future buyers might not understand the value of concrete. However, it's becoming more common with modern home design, so this attitude might not continue for long!
The other option for bathroom flooring: Engineered bamboo flooring
Bamboo flooring isn't wood; it is grass and looks noticeably like hardwood. Engineered bamboo construction is the same as the construction of engineered wood. It consists of a solid bamboo veneer layer, supported by a plywood or HDF core. So, all the disadvantages of engineered wood will apply to bamboo flooring, as well.
The advantages of bamboo flooring
High durability
Engineered bamboo flooring is one the best because of its high durability. If it takes some damage, you can refinish it, but like engineered wood, don't expect to refinish it more than once or twice.
Exactly like engineered wood, you should install waterproof or water-resistant bamboo flooring.
Ultra-sustainable
When it comes to sustainability, bamboo flooring is at the top of our list. Even laminate flooring or other types cannot compete with it.
The disadvantages of bamboo bathroom flooring
The high-quality bamboo flooring is costly but worth it.
Thus, if you want to install engineered bamboo flooring, invest extra bucks and choose a high-quality brand. This strategy saves too many dollars in the long term.
The Worst Options for Bathroom Flooring
Not all flooring is water-resistant. Let's look at the worst three options for bathroom flooring.
Carpet
Water can seriously harm all varieties of carpets, like nylon, polyester, etc.
Even if you are not spilling water on the floor, it is still in the air in your bathroom. You also expect mold and mildew over time due to moisture and steam in the air. As you know, mold and mildew ruin your subfloor and harm your health.
Non-waterproof laminate
Waterproof laminate is among the best floor options for bathrooms. However, the non-waterproof option will only be a waste of money because the planks will swell and twist due to seeping water between its layers.
Cork flooring
The real killer of cork flooring is water. Even the best cork flooring will absorb moisture, which leads to significant warping.
Conclusion
As we mentioned above, there are many considerations when choosing bathroom flooring. The flooring you select should be waterproof, easy to maintain, and visually appealing.
Remember that hiring a professional is a good idea because it will ensure that your project goes flawlessly without the need for costly repairs later on.
If you need help, our experts at the ConfirmedC team always offer the best price and come with genius solutions.