Japan and Scandinavia have considerable influence on interior design. The impact of Japanese style on bathroom design in the Western world is becoming increasingly popular.
Almost simultaneously, the sleek, minimalist, and functional furnishing of the Scandinavian interior styles became the next must-have look, particularly in large home retailers.
Despite the differences between these two regions, both interior styles have plenty in common. For instance, both approaches concentrate on functionality, simplicity, skill, and the use of organic materials and textures, making them perfect for contemporary decor.
Look at the Japandi bathroom style in the section below to learn how to incorporate it into your bathroom design.
What does Japandi style mean?
To appreciate the fusion of Japandi style, you first need to understand three concepts:
Hygge concept

: Hygge is a Danish/Norwegian word that means "wouldn't do justice—but let's try." It also refers to the feeling of comfort, coziness, and contentment you have in your home. Hygge is the unique feature of Scandi style; even when the weather is far from welcoming, your home shows a real sense of happiness and well-being.

Wabi-sabi concept

: Wabi-sabi is a Japanese word that translates as "finding the beauty in imperfection." In fact, you can find beauty in natural forms, which promote symmetry, neat order, perfect geometric shapes, and acceptance of everything changing over time.

Lagom concept:

 

Lagom is the Swedish proverb "

Lagom är bäst." It is similar to the English phrase "less is more." It indicates your living space should not give you the sense of being cluttered with possessions, excessive colors, or embellishments.
On the other hand, the Japandi style promotes the use of organic materials with a neutral color palette, sustainability, and relaxation & harmony.
How to get the Japandi bathroom design?
When you want a Japandi bathroom style, you need to consider these factors:
Organic or faux materials

Clean lines

Soft and neutral colors

Low-key lighting

minimal, carefully selected accessories

The simple, pared-back, and unfussy design

Plants promote a natural feel.
Japandi-style bathrooms: bathtub & showering area
You can pick the Barocci solid surface with its clean lines and graceful whale-like shape for your bathtub. This model, like all Japandi bathroom models, is simple yet functional and has a stunning, handy towel rack at the tapered end.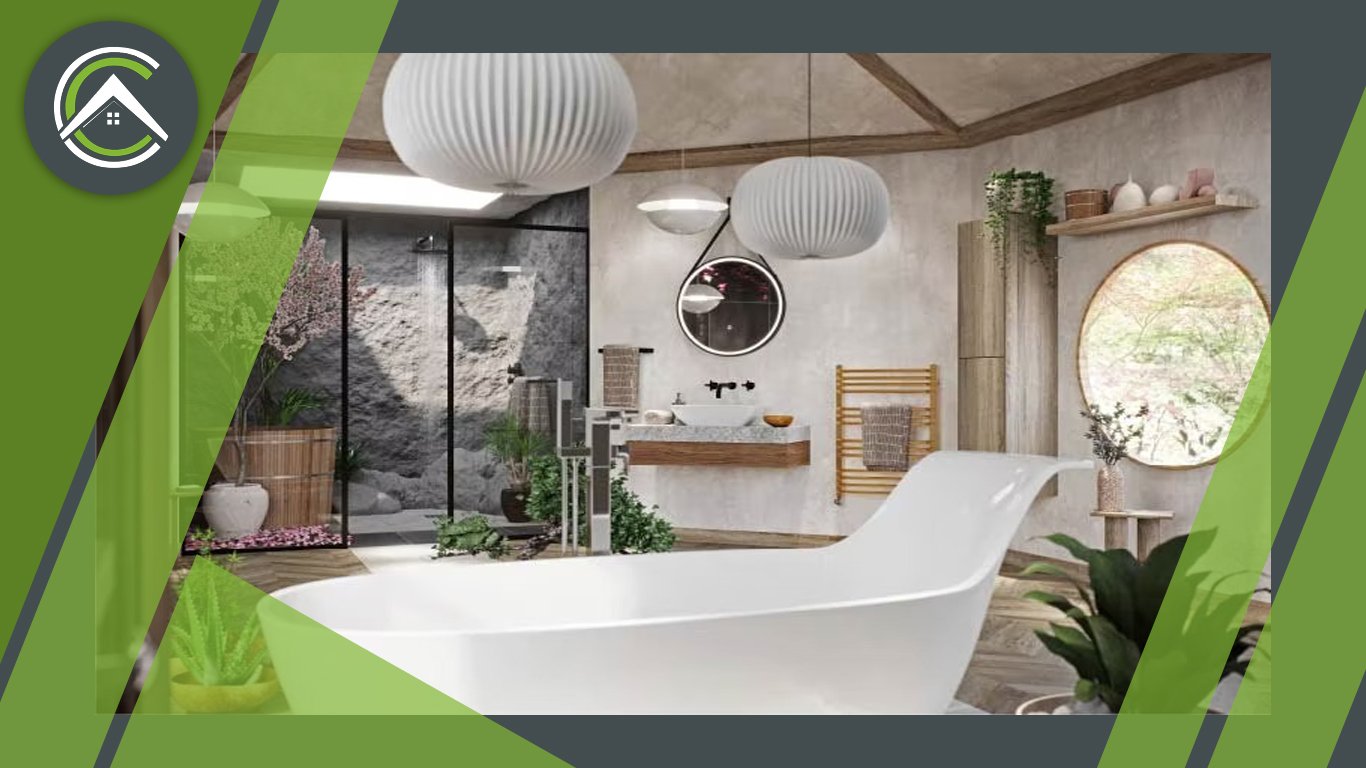 As you can see in the picture, the bath is located in the center, and rough, stone-like walls give the stunning bathroom shower areas that, along with plants, promote the sense of an organic feel and a Japanese-style submersion tub.
Furthermore, the skylight allows natural light to enter, while the black-framed shower and shower screens maintain the darker theme.
The Japandi bathroom vanity, wall, and floors
Let's pay attention to the Scandinavian element of washbasin areas. This element combines a mix of darker wood and stone countertops, adorned with Tate black wall-mounted mixer taps and an Ellis countertop basin. The circular mirror with a black frame and towel rails highlighted the black theme and low-key lighting.
We use a Japandi toilet with a black flush plate and matching bidet to achieve a minimalist look. 
As a Japandi bathroom vanity, we provide one bit of additional storage in the form of a tall wall cabinet to offer ample space for large items. Moreover, it perfectly matches the simple and organic theme thanks to its lighter wood color.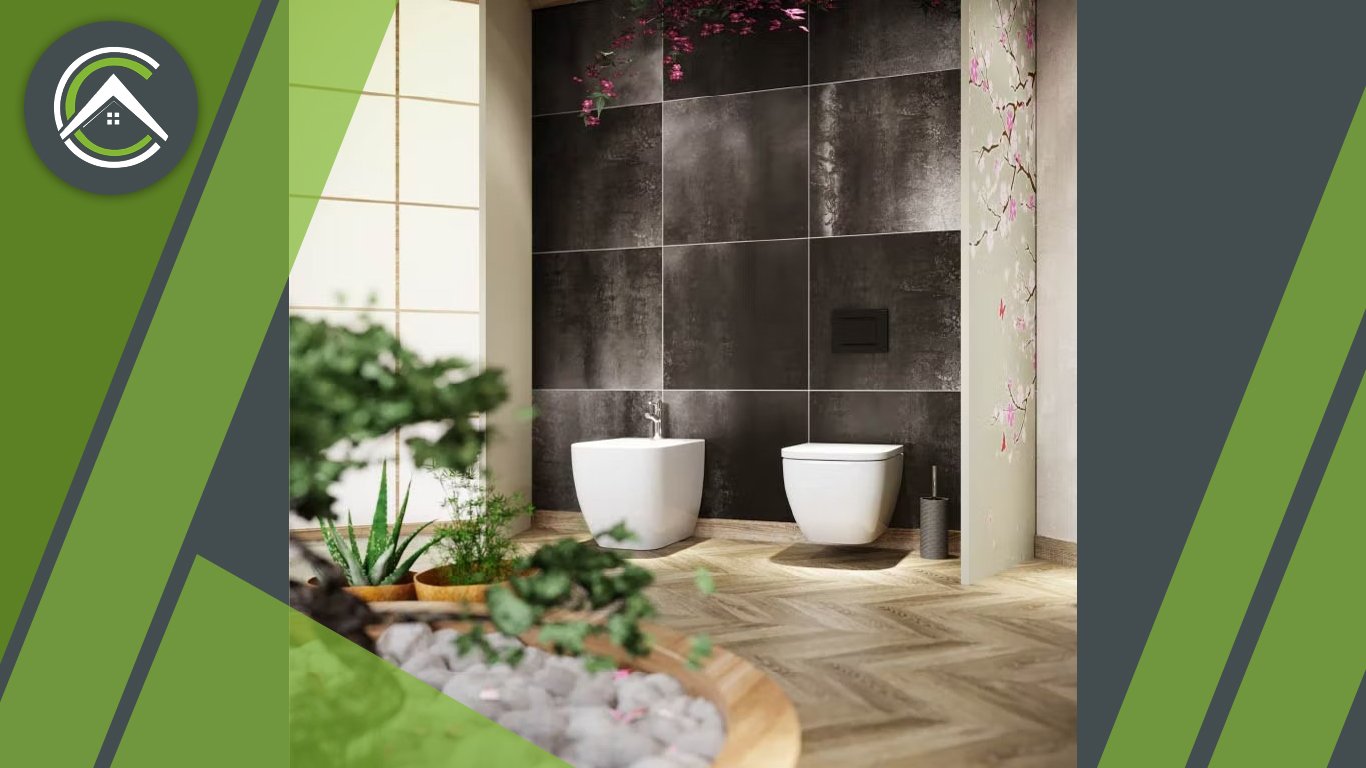 Everyone is drawn to the contrast between the light wood-effect bathroom flooring and the dark patina effect of the Japandi bathroom tiles.
Japandi accessories and heating
The concept of Lagom tells us about the accessories in Japandi-style bathrooms that should keep to a minimum.
As seen in the above image, we use carefully selected plants throughout the bathroom, as well as minimal yet functional accessories like a heated towel rail in brushed brass, to evoke a sense of beauty in the eyes of every viewer.
The other accessories we use in this simple Japandi-style bathroom are:
Handcrafted rocks

Slate-style soap dispensers

Minimalist tables provide the perfect placement for other pot plants.
Some Other Japandi Bathroom Ideas
Industrial Japandi style
Use a spherical freestanding bathtub as the centerpiece that creates a beautiful contrast with gorgeous matte black faucets resulting in a stunning industrial Japandi-style bathroom.
To achieve an imperfect but ideal industrial look, we recommend Limewash paint.
Bright and Open Japandi-Style En-suite
To have a charming, tranquil space, keep everything calm and open with neutral colors.
The window is a brilliant solution to provide natural light that seems your bathroom more spacious.
Remember, in the Japandi bathroom style, loyalty to the minimalist is more crucial. Due to that, it is better to avoid enclosures and welcome any frameless structures or walk-in showers.
You can use the rustic element to add warmth and natural touch to your bathroom's atmosphere.  
Lastly, try to use round and soft furniture.
Colorful Japandi bathroom style
Feel free to add soft, soothing pastels if you need that extra splash of vibrancy. Keep furniture simple, add black accents, and add color with paint, fluted tiles, or simple accessories to achieve Japanese minimalism.
If that's not enough, add color to your ceramic creations. Countertop basins and vanity units look fantastic when painted in.
Dark Japandi Bathroom Style
To create a base that looks like actual stone, using dark-textured walls and floors. To make a sharp contrast, combine your dark walls with a dash of rusticity and a panel wall. It will preserve the room's lovely openness.
One of the many elements that contribute to the lovely Japandi bathroom design is the use of clean lines and small embellishments. Dark wood/oak vanity units are a great way to introduce a variety of textures when designing a dark Japandi style.
Japandi small bathroom design
You might be thinking, "My bathroom isn't big enough, as you mentioned here."
Well, don't worry; we are here to get you covered. Contact the ConfimedC team if you are looking for a professional team to guide you to the best Japandi small bathroom design.
We advise you to follow us on social media to find new and fresh ideas in interior design.
.