The kitchen is undoubtedly the most important part of a home. As a homeowner, when you check out properties, their kitchens are the first thing that draws you in immediately. The floor plan, wall color, functionality, and types of cabinets are all elements that impact your decision since the kitchen is the heart of each home, and if it is well-planned, it makes you feel at home.
That's why we've brought some ideas for kitchen remodels to help you remodel and design your kitchen in the best possible way.
Ideas for Kitchen Remodeling
Using bold designs for cabinets
Cabinets have an unbelievable impact on every kitchen. Both upper and lower cabinets can add aesthetic appeal to your whole kitchen.
If you have a small kitchen, simple wood cabinets or white ones are the best choices since they make your place appear larger than it is. Laminate or glass-door cabinets are ideal for the modern kitchen, and if you have a penchant for art, we recommend using textured or decorative glass panels with sophisticated designs to make you feel more serene and comfortable. Try to use your imagination and a hint of personal touch to enhance the overall look of your new kitchen.
Adding a kitchen island
Adding a kitchen island is another great idea for kitchen remodeling. The countertops and slabs are helpful; however, a kitchen island can aid in further enlarging the room while maintaining the appearance of closed functionality.
It means you can open up the kitchen wall and change the floor plan to be part of your loved one's or friends' conversation while you cook for them. This idea is great, especially if your kitchen overlooks the living room or dining areas.
Moreover, the kitchen island gives you more space for seating or laying down cooked items. You may also consider using open shelves to make your space double to hold your required appliances for a cooking meal, like a chopping board, cheese grater, butcher board, and other small objects.
For countertops, use substantial materials.
Many people mistakenly think that by overlooking the quality of materials used in cabinets, countertops, tiles, and other similar items, they can save more money and have more budget for a nicer interior kitchen design.
The kitchen countertops should be sturdy enough to avoid cracking, chipping, or breaking under pressure, so it's important to use good-quality materials. While marble and granite countertops may be much more affordable, they also have the flaws of cracking, yielding germs, and chipping.
We recommend quartz countertops because they are tough, unbreakable, and impossible to breed germs in the cracks, so keep your kitchen clean and hygienic at all times.
Use eye-catching décor.
Cooking is a vital component in every household. It deserves a fitting tribute to its valor. Although it may appear unnecessary to incorporate artwork and ostentatious decorative pieces in this specific space, you can still liven it up with fixtures and lighting for added effect.
Make a kitchen makeover with some tall bar tools around the kitchen island and turn the space into a mini bar with a shaker and some assorted ingredient jars.
These décor pieces are small and almost inconspicuous unless they are in use. They're mostly subdued, so they don't get in the way when you're rushing around the kitchen while adding aesthetic appeal to your kitchen. The only point is that you should make sure to match the rest of your home's décor.
kitchen remodeling with the addition of some metallic hardware.
Metallic structures add a unique touch to your kitchen design. Metallic hardware complements any style of kitchen, whether contemporary, modern, or rustic.
A farmhouse sink certainly looks appealing with its marble or granite finish. On the other hand, a stainless-steel metal sink integrates perfectly with the rest of your kitchen's appliances. Alternatively, you can also add a stainless-steel faucet to the newly designed kitchen to enhance its aesthetic value.
The kitchen sink is protected with stainless steel since it endures the worst circumstances. For a long time, your kitchen will remain clean and hygienic thanks to its resistance to rust and the ease with which stains can be removed.
If you plan to renovate your kitchen to sell your home, metallic hardware can be a great choice. It makes potential buyers visualize themselves in the kitchen with the minimum number of tasks in it.
Split-Level Kitchen Remodel
Split-level kitchen remodels were popular in the 1960s and '70s. People who buy these types of houses often discover that the renovation to make them a nicer and more convenient place to live in is quite challenging.
If you live in a split-level home, you know that uneven leveling often produces an irregular internal form that can impact kitchen design too. In many split-level houses, the kitchen location is often on the upper level, and a short staircase usually connects it to other rooms (like living or dining rooms) while a wall separates them.
In the following, our split-level kitchen remodels ideas can give you a clue to do the project well.
Removing the Wall from the Kitchen
Three reasons show why wall removal can add to the home's value:
Modernize home interior design.
Create a better flow in the house.
Make your home more spacious.
Before and after the split-level kitchen remodel: removing the half-wall
In a split-level kitchen, the idea of wall removal does not always mean getting rid of the entire wall. Sometimes, especially in a small kitchen, removing half a wall can create a fabulous look. This idea is great for those who want to get an open feel but want a barrier to separate the kitchen from the rest of the room.
As you can see from the picture, this idea was implemented in the following project to get better access to the open concept. Moreover, white and grey walls with arched holes on the walls make the interior brighter and more spacious.
The split-level kitchen remodel: removing the half-wall.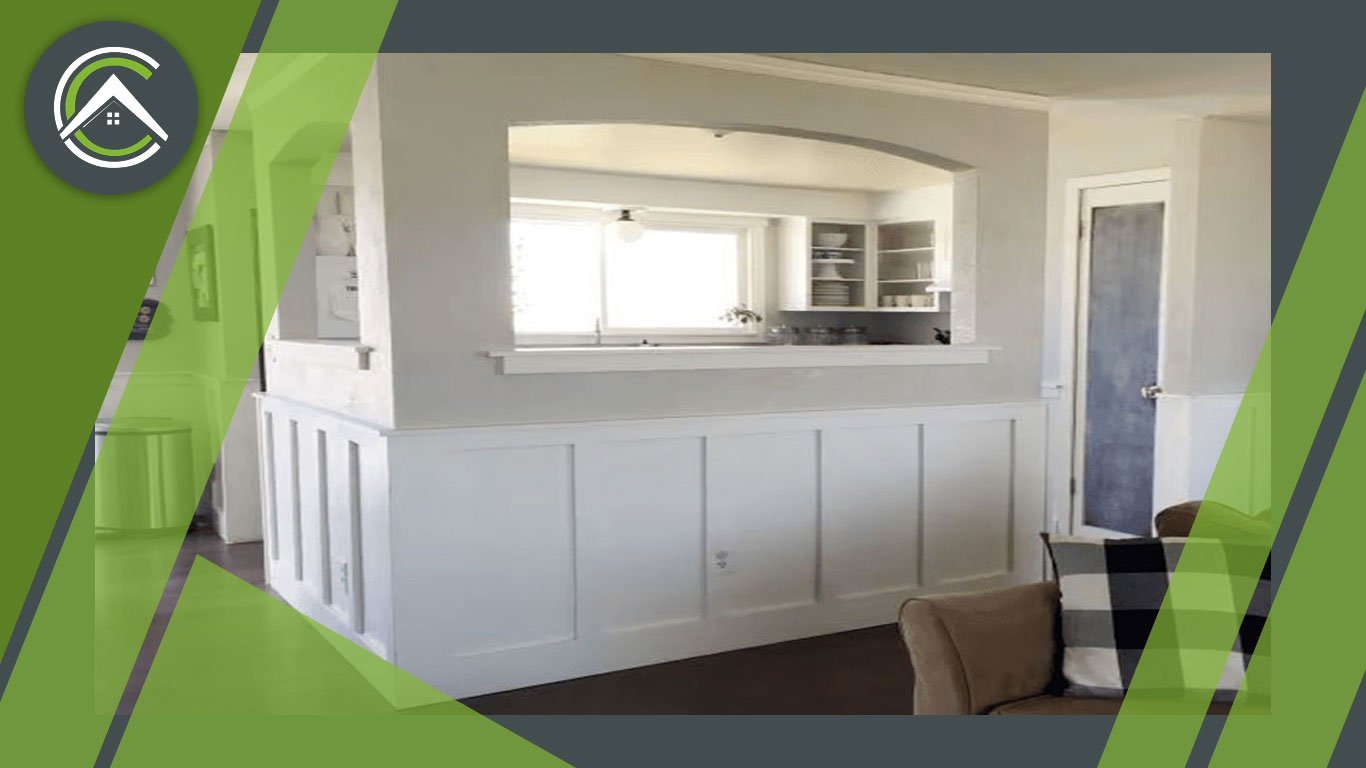 Better flow with the no-door design.
However, a no-door design is not always the best option for split-level kitchen remodeling; in most cases, the no-door concept works best in medium-to-large split-level kitchens because it improves airflow. 
As shown in the image below, only the middle wall separates the kitchen from the dining area; the no-door idea is ideal for the following kitchen, which is placed near the staircases. In addition, the middle wall can be a perfect place for hanging artwork as well as a great place for cabinet design and adding to the kitchen's functionality.
View from the living room.
View from the kitchen!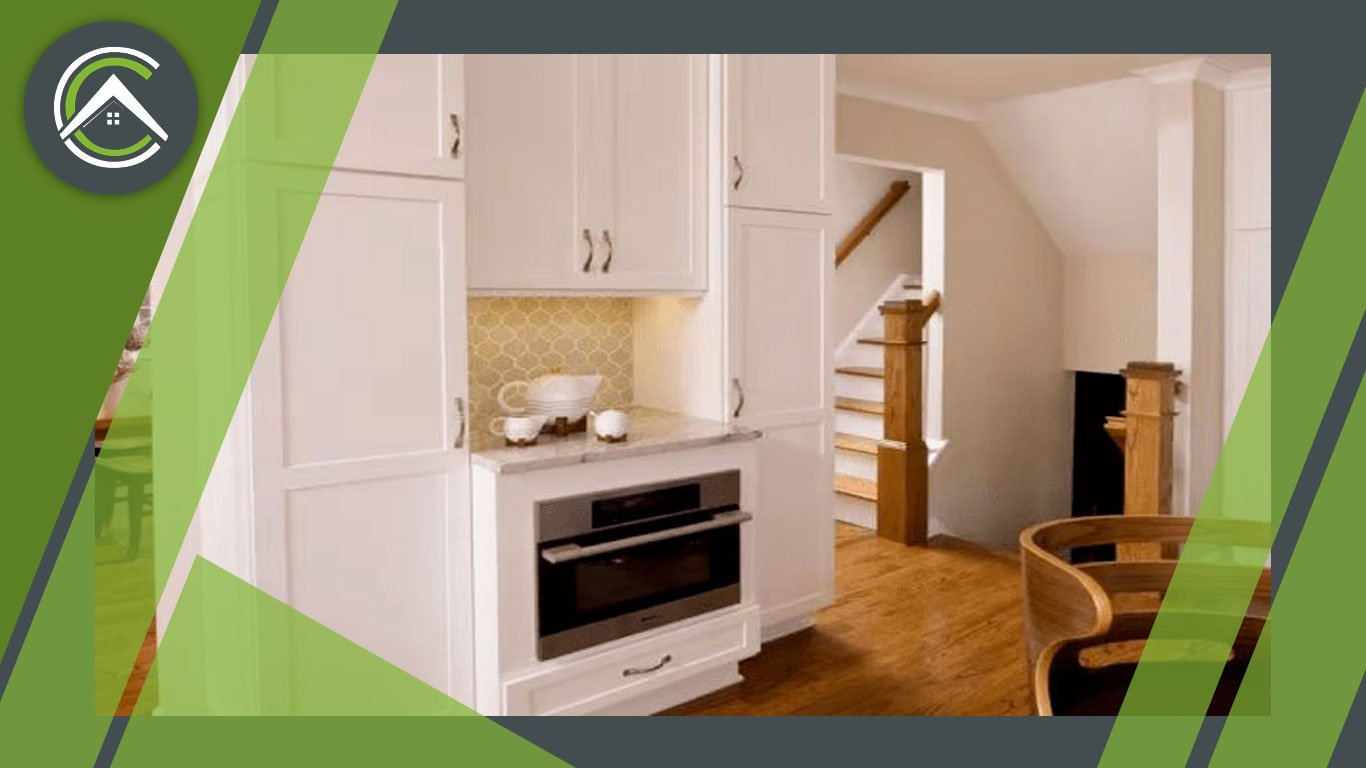 Simple kitchen remodels with custom furniture
Do not ignore the impact of custom furniture on split-level kitchen remodeling. For instance, a free-standing cabinet not only gives you extra storage but also covers your kitchen area partially and acts as a divider between the dining room and kitchen area.
Consider adding a wall addition to hide furniture.
A wall addition can give you a chance to have extra furniture in the split-level kitchen, particularly if you like to have additional storage for your home cooking experience.
The picture below can give you a lot of inspiration for kitchen makeovers. A green wall not only complements the rest of the home's design but also provides good storage for a custom refrigerator cabinet in the wall.
View from the living room.
View from the kitchen!
Use a floor-to-ceiling fireplace to connect a split-level kitchen to the rest of the rooms.
The floor-to-ceiling fireplace, as you can see in the picture below, was there from the beginning. We used this element as a bridge to connect the kitchen, dining area, and living room. On the other hand, the floor-to-ceiling fireplace creates a concealing effect that divides the kitchen area from the rest of the entry spaces, so the activities in the kitchen will not be visible to those who sit in the dining or living room.
View from the kitchen!
View from the living room!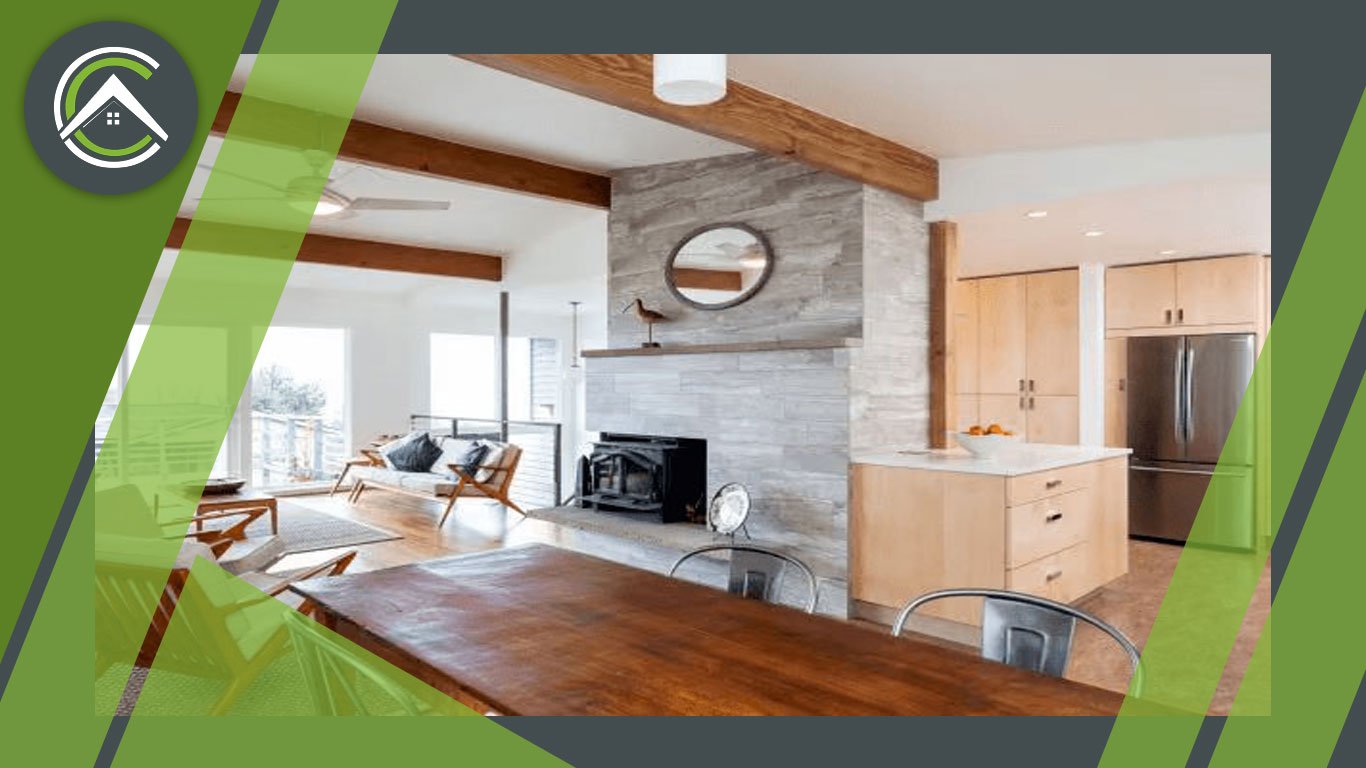 Split-level kitchen remodeling that makes the kitchen area and dining room more open and spacious
This idea is another reason to show how removing a wall can change the total appearance of a split-level residence and make it look stylish and modern.
As you can see in the picture, the walls separate each room. So, we decided to remove the wall between the storage and kitchen area and build a new replacement for the laundry room and a bathroom complete with a shower room, sink, and toilet.
before wall removal
After wall removal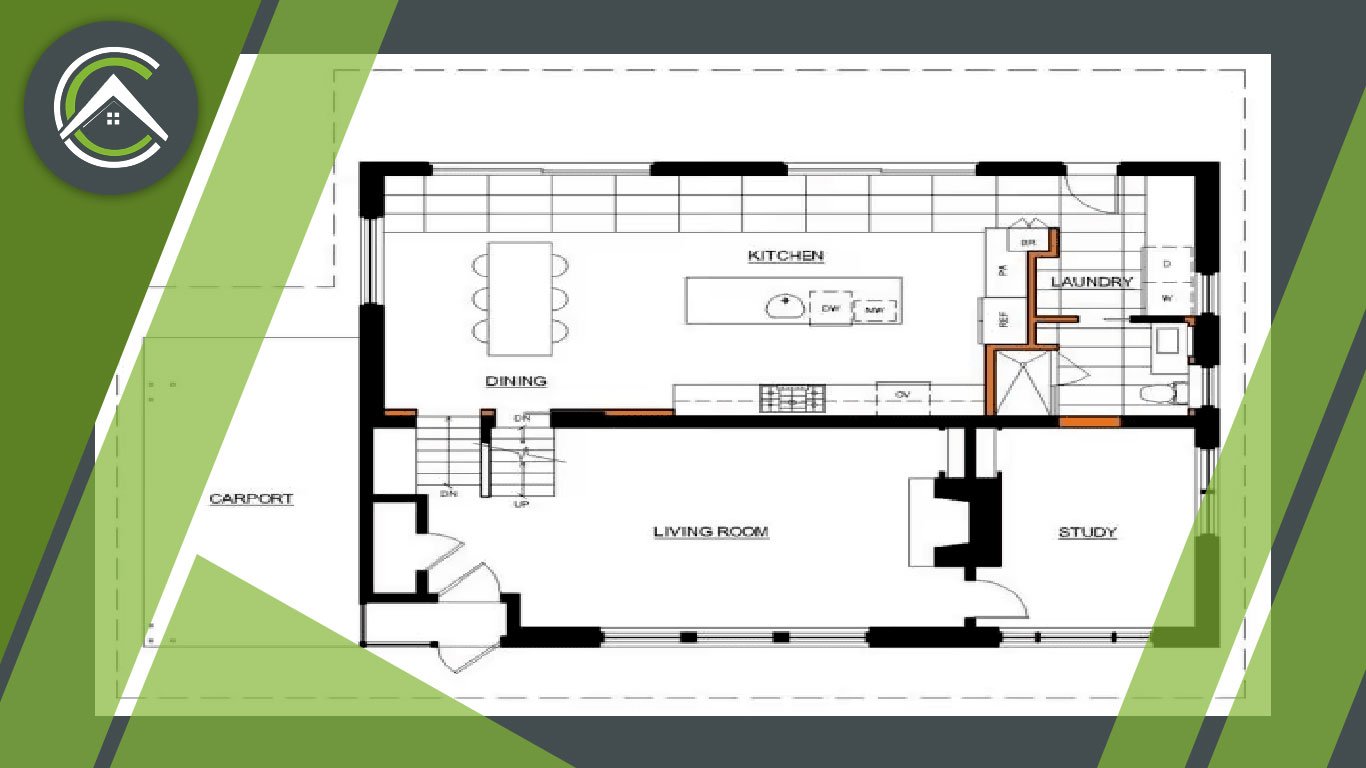 As can be seen in the below pic, the thing that makes this design lovely isn't only related to being more spacious with wall removal but also using two types of flooring that create a kind of invisible wall. In fact, the wood-like floor acted as an invisible wall to separate the kitchen area from the dining room.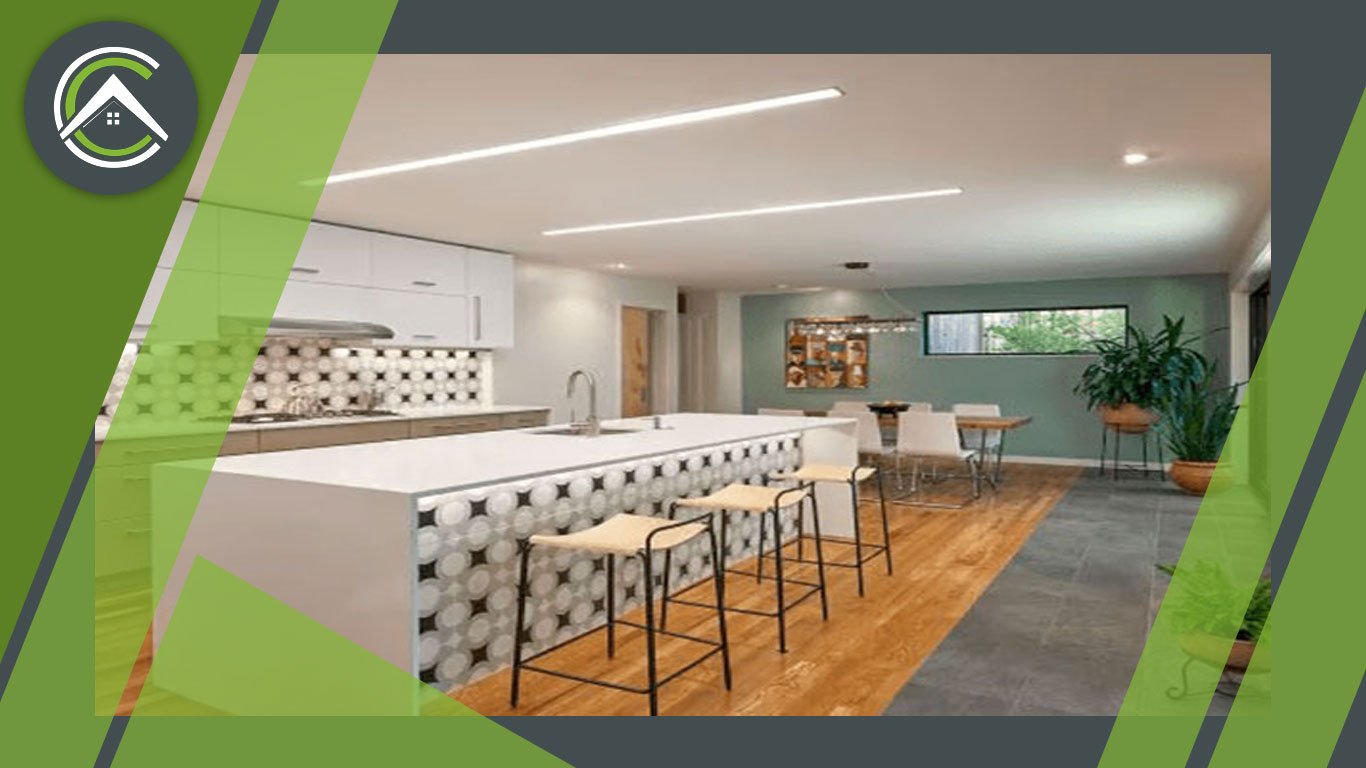 Ideas for Remodeling Kitchen Cabinets
When you want to choose new cabinets, pay enough attention to:
Style: For cabinets with rich, dark finishes, cherry wood is popular. But for an exotic look, try mahogany, bamboo, Sapele, and Anglade with stained or lacquered finishes.
Function: Frameless European cabinets with soft-close drawers provide more storage than traditional rail-style cabinets. Touchless cabinets are a luxury feature that is especially useful for waste or recycling drawers.
Hardware: Don't overlook the hardware. They are the kitchen's jewels.
When thinking about cabinet remodeling, keep the following in mind:
Looking for completely adjustable door hardware so that you can set the doors to the desired space easily.
For perfect cabinet remodeling, you don't necessarily need a cabinet with high-quality features. In fact, semi-custom, reasonably priced cabinets that come with a variety of storage options (including pull-out pantries and spice racks) can meet your satisfaction.
Here is a video may you inspire about kitchen remodel ideas.
FAQ
How much is the estimated cost of a kitchen renovation?
The average kitchen renovation cost is between around $12,000 and $35,000. A small kitchen renovation can cost around $4000 to more than $50,000, depending on the size and scope of the project.
What is a Ranch-Style Kitchen?
Ranch-style kitchens emphasize natural materials, unpretentious & unassuming design, and kitchen areas that can accommodate large meals. Guests should always feel welcome, comfortable, and at ease in these areas, even though their boots are still dirty.
In the end,
If you're seeking a company that specializes in kitchen remodeling in Toronto, Confirmed Contracting Corp is in the exact place you are looking for.
Our specialist team will guide you in the best way and give you the most reasonable cost for your project while ensuring that it meets your satisfaction.