A ranch-style kitchen is a comfortable, cozy, welcoming, and warming kitchen style, and it's an appreciable option for those who tend toward an unpretentious and country comfort lifestyle. The rustic kitchen style is not only good for any country area, but it is also appropriate anywhere, even for homes in the heart of the city.
Here, we have come up with some ideas that may help you remodel your kitchen in this comfortable and lovely style.
Some of the Ranch-Style Kitchen Ideas
Warm and welcoming
The rustic ranch kitchen style has a warm and inviting atmosphere with natural materials at the core, while making merry with a weathered look, highlighting elegance and comfort.
A rustic kitchen, as mentioned above, is not only suitable for mountain or rural areas, but it's also stunning against the backdrop of a contemporary townhouse, a beach house, or an urban loft vibe.
Try to use more wood in the ranch-style kitchen.
Nothing beats a wood-swathed kitchen with natural-looking wood floors when. A two-toned wooden kitchen island and wood cabinetry can also be added to this design. Furthermore, for a more stunning look, consider adding stainless steel appliances, recessed lighting, and modern pendants to make a perfect contrast with the warm and cozy wood backdrop.
Industrial and eclectic style.
Combining industrial elements with rustic touches creates a cheerful, beautiful, live-in space with efficient organization.
Pale white
Who said a farmhouse-style kitchen had to be gloomy and dark? If you like the atmosphere of the rustic ranch kitchen style but prefer to keep it bright, try to cover your kitchen in white, from the floors to the doors and the cabinetry.
Moreover, rustic kitchen cabinets with white paint and burnished silver drawers make your space appear larger. You can also use finished wood color to pop on the countertops and the island for beautiful contrast, a warm ambience, and a more rustic look.
Ranch-style kitchen backsplash
Amp up the charming atmosphere of your rustic kitchen by accentuating the mosaic tile backsplash sink, which is placed under a sunny window while granite countertops are on either side to make your kitchen the focal point of your home.
Ideas For Ranch-Style Kitchen Cabinets
Victorian rustic style cabinets
Beautifully finished wood cabinets, along with an oversized porcelain sink, are a perfect match for a Victorian-style kitchen. It is a great idea to use a white stone countertop to make your space feel fresh, clean, and larger than it actually is. Additionally, the slightly raised countertop behind the dish rack and the bright blue piece of cabinetry can give your kitchen interest and depth.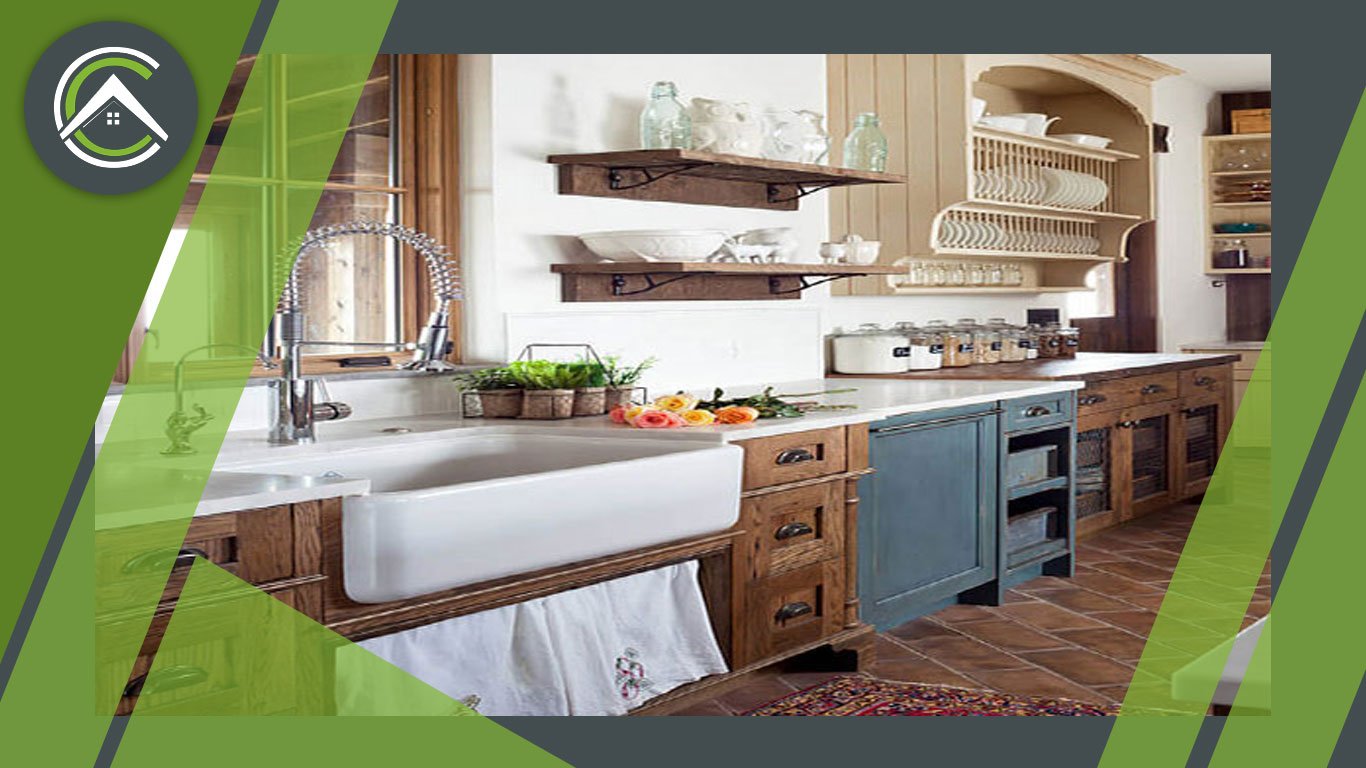 A modern ranch-style kitchen with light gray cabinets
Traditional farmhouse-style cabinets that are painted light gray with white stone countertops and a subway tile backsplash make your kitchen style seem modern with a classical farmhouse feel.
Open-face white-paneled kitchen cabinets
The glass-faced and open-face white upper cabinets perfectly match the rest of the modern kitchen cabinets and make your space look airy, open, and clean. Glass-faced upper cabinets are a great place for glass containers, and lower cabinets are ideal for the storage of unsightly kitchen gadgets.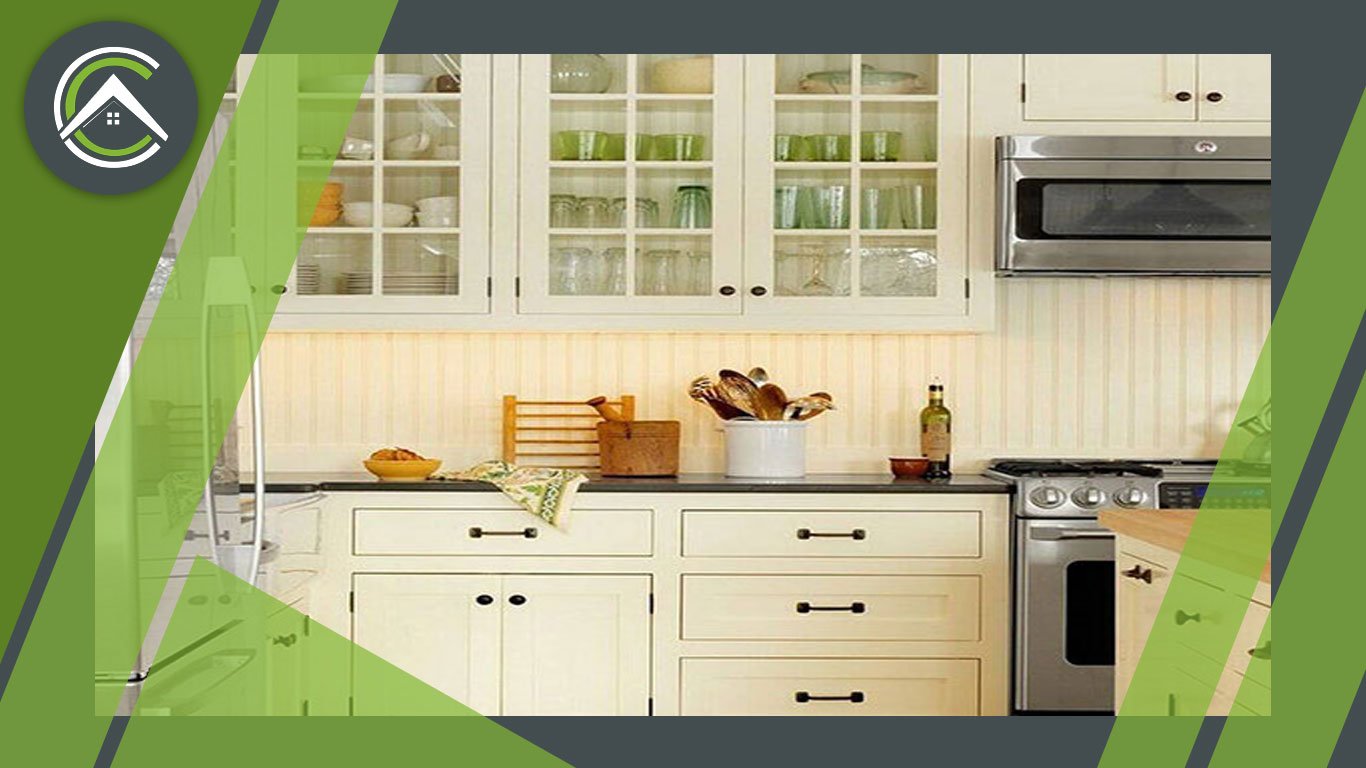 Light blue upper open-face cabinets for ranch-style house kitchen
Blue cabinets with wooden countertops and a beadboard backsplash evoke a beachside cottage. The contrast of fresh blue and wooden countertops gives your kitchen warmth, and open-face upper glassware cabinets create a cozy display. A combination of all elements creates a unique design of farmhouse and beach-style.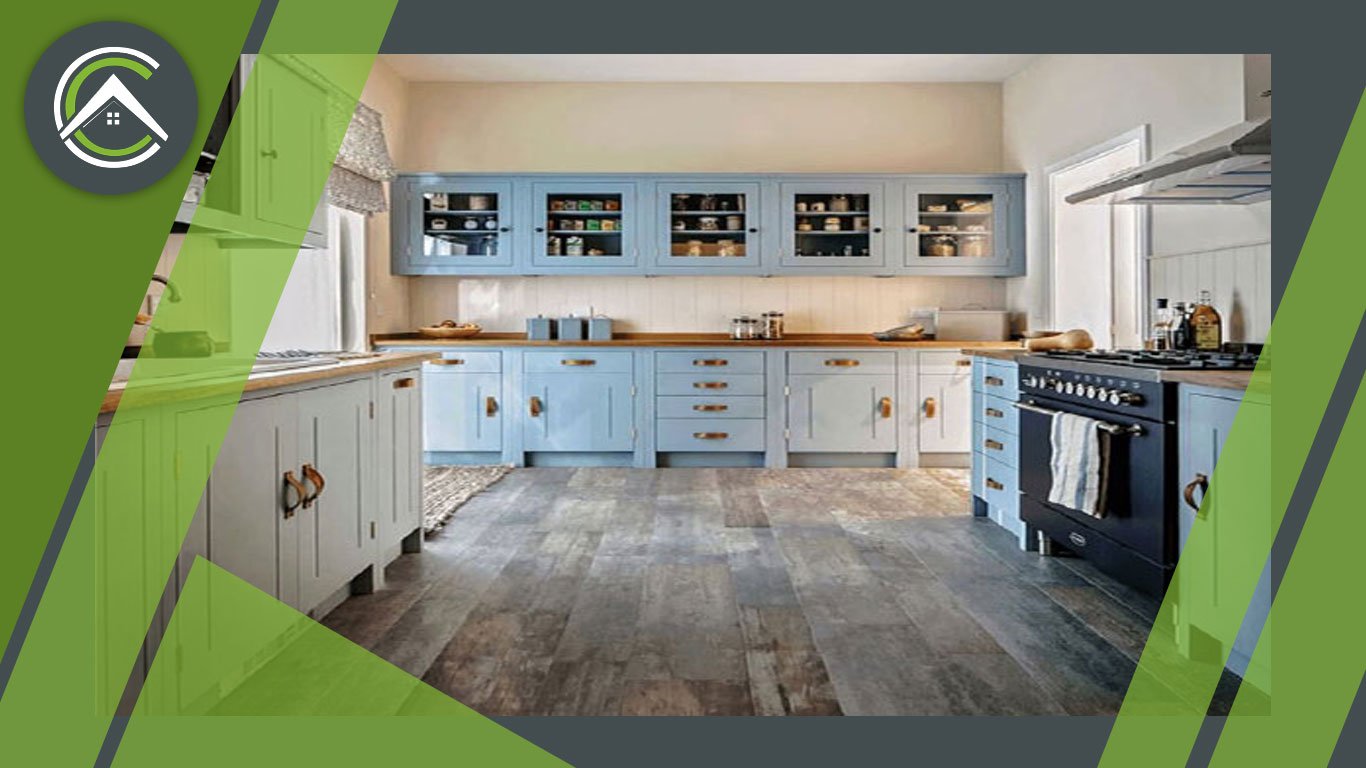 Modern Farmhouse Cabinets in Khaki Tan
Khaki tan gives your kitchen a warm feel while maintaining the light and airy quality that light-colored cabinets provide. This design will be perfect with a prep area and a second sink, which is usually placed around a farmhouse cabinet. We recommend using a wooden countertop with rustic décor to create a classic look.
Ranch-Style Kitchen Sink Features
Design
These deep sinks with more rounded corners and softer edges work as an all-in-one workstation that can meet all your cleaning requirements. In other words, they allow you to wash everything in them, from dirty dishes to a little laundry. Don't forget, they are not suitable for the modern kitchen style.
Materials
A true rustic sink is made of materials that resist stains from dirt to food, like cast iron, porcelain, or fireclay. However, these days, most manufacturers use different materials like different stones and metals.
If you are a bit pedantic, we recommend being strict in selecting a farmhouse sink; a cooper sink may be ideal for a kitchen full of hay!
Installation
There are several ways to install these sinks. Based on your kitchen style, you can install them under-mount, top-mount, or drop-in.
The advantages and disadvantages of a ranch-style kitchen sink
Advantages:
Farmhouse sinks are cozy and go well with laid-back interior décor.
A porcelain sink may look great in a pastel kitchen or one with a natural shade of brown and beige tones.
Disadvantages:
Because most of these sinks are made of natural stones and metals (like cast iron or porcelain), they might not be suitable for any kitchen-style décor.
If you prefer harder materials for your kitchen sink, like stainless steel, choosing a farmhouse sink may not be a good choice.
Ideas for Small Ranch-Style Kitchens
The country kitchen design style is suitable for those homeowners that prefer a vintage or rustic kitchen style.
Here are some great ideas that may inspire you when you want to make some changes to the décor of your rustic kitchen style.
Using light walls
The light wall makes your kitchen seem larger than its actual measurement and gives you the illusion of additional space. Moreover, using a country kitchen backdrop with white gloss doors makes the space feel expansive without using any carpentry tools.
We recommend using buttercup yellow, creamy white, or sand tan for walls since they give the walls a saturated result while offering simple maintenance at the same time.
White cabinets
Warm-white kitchen cabinets are timeless and a great option for any kitchen since they create the impression that the room is spacious and open. Nevertheless, they are particularly desirable for a small rustic ranch kitchen.
To add a more vintage look, use glass knobs, white-enamel knobs, or brushed-nickel pulls, and select furniture-detailed cabinets, like carved bottom legs.
Use an apron sink or ranch-style sink.
The most important vintage element that is often seen in many rustic-style kitchens is an apron sink. It is good advice to choose a white color with one sink (instead of a divided one) to give you the feel of an old farmhouse sink seen a long time ago. A brushed nickel or oil-rubbed bronze gooseneck faucet is an additional design for making deeper vintage roots.
Rural Accessories
To make small ranch-style kitchens appear larger, it's best to keep them clutter-free. However, a few accent pieces provide style without making the space appear smaller. For instance, to hold pots and pans, you can hang a small, rustic ladder pot rack from a high ceiling and embellish it with a few woven baskets and some dried herbs. You could even hang a collection of old plates on a small wall in your kitchen to add color and style. A wooden bowl full of fresh apples on the countertops can be a beautiful finishing touch for your country-style kitchen.
In the end,
If you want to remodel a farmhouse-style kitchen, our professionals at Confirmed Corp Company will help you understand what type of style and décor matches your home.
A ranch-style kitchen remodel involves mixing different elements like cabinet colors, decorative accessories, decorative lighting, a neutral color palette, glazed cupboards, and so on. Whatever your style, we are here to help you transform your kitchen into a remarkable one, turn all your ideas into reality, and finally, help you achieve the look you always imagined in your dreams. Our inventive staff are perfect when it comes to a kitchen remodel, so you can make sure your kitchen will truly be what you want. Therefore, if you have any questions in this field, contact us so that our experts can guide you in the best way.