Many homeowners have asked us about the effectiveness of recycled blown-in insulation. The fact that the effectiveness of this type of insulation depends on the specific materials used in your home.
Please note that there are different types of insulation, including various options within the blown-in insulation category, and whether or not you can reuse the insulation depends on the type used in your home.
To obtain an accurate answer to your question, it's recommended to consult a trusted professional.
Below, we provide some useful information that may help you find the answer.
Different Types of Recycled Blown-In Insulation
Typically, there are three types of materials used for blown-in insulation: fiberglass, cellulose, and spray-in foam. Among these three, spray-in foam cannot be recycled or reused.
Fiberglass: If fiberglass insulation is installed properly, specialists can easily remove and repurpose it. Generally, fiberglass can even be recycled from demolition debris, making it an eco-friendly option.
Recycled Cellulose Insulation: Typically made of recycled materials, cellulose is an excellent reusable option for home insulation. Professionals can recover and reuse cellulose, saving you money on your home's insulation.
Spray-in foam: This kind of insulation is composed of a composite material formed by two chemicals: isocyanate and polyol resin. When these two chemicals meet, they react to each other and create an effective insulator for soundproofing and heatproofing. Thanks to its specific nature, foam can effectively reach even the smallest nooks and crannies, creating an energy-efficient, comfortable living environment.
Even if you choose reusable insulation, it's still necessary to hire an expert to ensure proper and error-free insulation. Please notice that when reusable insulation is not properly installed, it can become mixed with other non-recycled materials, compromising the effectiveness of your insulation and even posing a health hazard to the occupants of the home.
How to Reuse Blow-In Insulation?
To effectively utilize recycled blown-in insulation, the expert will begin by vacuuming up the existing cellulose or fiberglass. This is achieved by modifying the blower to suction the materials rather than pushing them out.
The professional insulation installer needs to ensure that the reusable insulation is debris-free, such as plaster or lumber scraps, and then refill the wall cavities with reusable materials.
If you are insulating your home for the first time, consider using fiberglass or cellulose, as they can be reused to address further insulation needs.
Recycled Blown-In Insulation Pros and Cons
Pros:
Energy saving: Blow-in insulation is effective for heat-proofing and prevents the escape of inside heat or cold to the outside, making it more energy efficient and helping you reduce your energy bills.
Eco-friendly: Recycled blown-in insulation is environmentally friendly because it's composed of recycled materials, such as shredded newspaper.
Complete coverage: blown-in insulation is an excellent material that can be used in any type of spot, including the smallest nooks and crannies. It effectively covers all the smallest spots, preventing air, moisture, and pests from entering, thereby making your home more resistant to heat and blocking noise.
Cons:
One of the major drawbacks is that the project can quickly get messy if you're not a professional. It involves using an air pressure hose to blow the insulation into place, which is why it is advisable to hire a professional installer to ensure the project progresses smoothly and error-free.
If recycled blown-in insulation isn't installed properly, it cannot work as effective insulation. That's why you need experienced professionals like us to progress your project smoothly.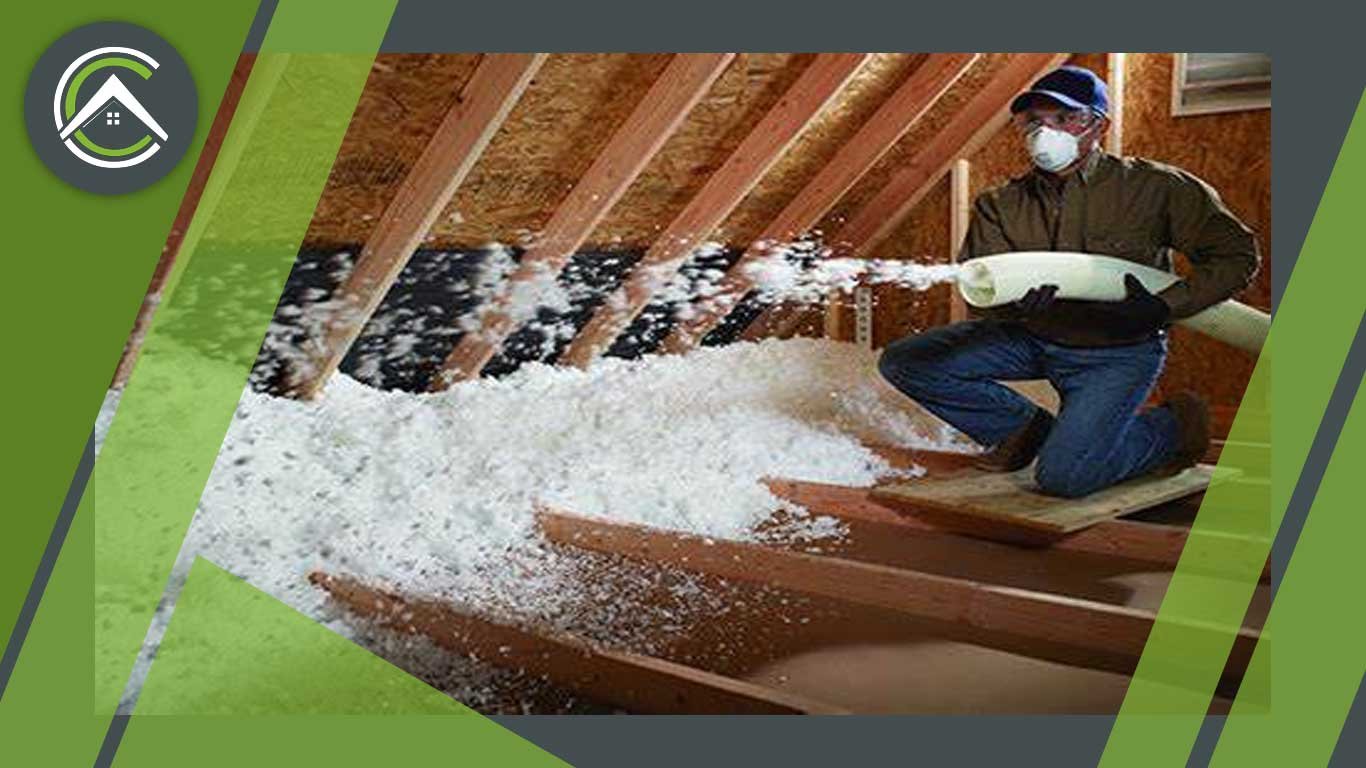 Recycled Blown-In Insulation for Attic
When it comes to attic insulation, you've got the option to use either blown-in fiberglass insulation or blown-in cellulose insulation, both of which can be reused for further insulation needs. While there are different types of insulation materials available for attics, your options may be limited if you prefer to use recycled materials.
Fiberglass insulation is formed from tiny glass fibers, installed using a blowing machine, and distributed throughout the attic.
Fiberglass materials effectively cover every nook and cranny, ensuring there're no gaps or spaces left uninsulated. Moreover, it creates a more energy-efficient home by preventing air leaks, helping you save considerable bucks in energy bills. Fiberglass materials also help reduce external noise, creating a more comfortable and quieter living environment.
Fiberglass blown-in attic insulation needs to be installed by a professional, as improper installation can result in air leaks, reduce its effectiveness, and even lead to health hazards.
When it comes to eco-friendly recycled blown-in insulation for attics, cellulose insulation is the best. It's composed of recycled materials that are tightly packed, including wood, newspaper, and cardboard, making it the most environmentally friendly option.
Blown-in cellulose offers numerous advantages, including a higher a R-Value, meaning it provides better resistance to heat flow. Moreover, cellulose is an effective option to reduce wind-washing. Wind-washing happens when the outside cold air finds its way into insulation, affecting its effectiveness. Cellulose installation is also one of the top materials for soundproofing.
Despite the advantages of blown-in cellulose, it can get messy in the project's environment quickly if you're not an expert. That's why you always need a professional to ensure proper containment and safety.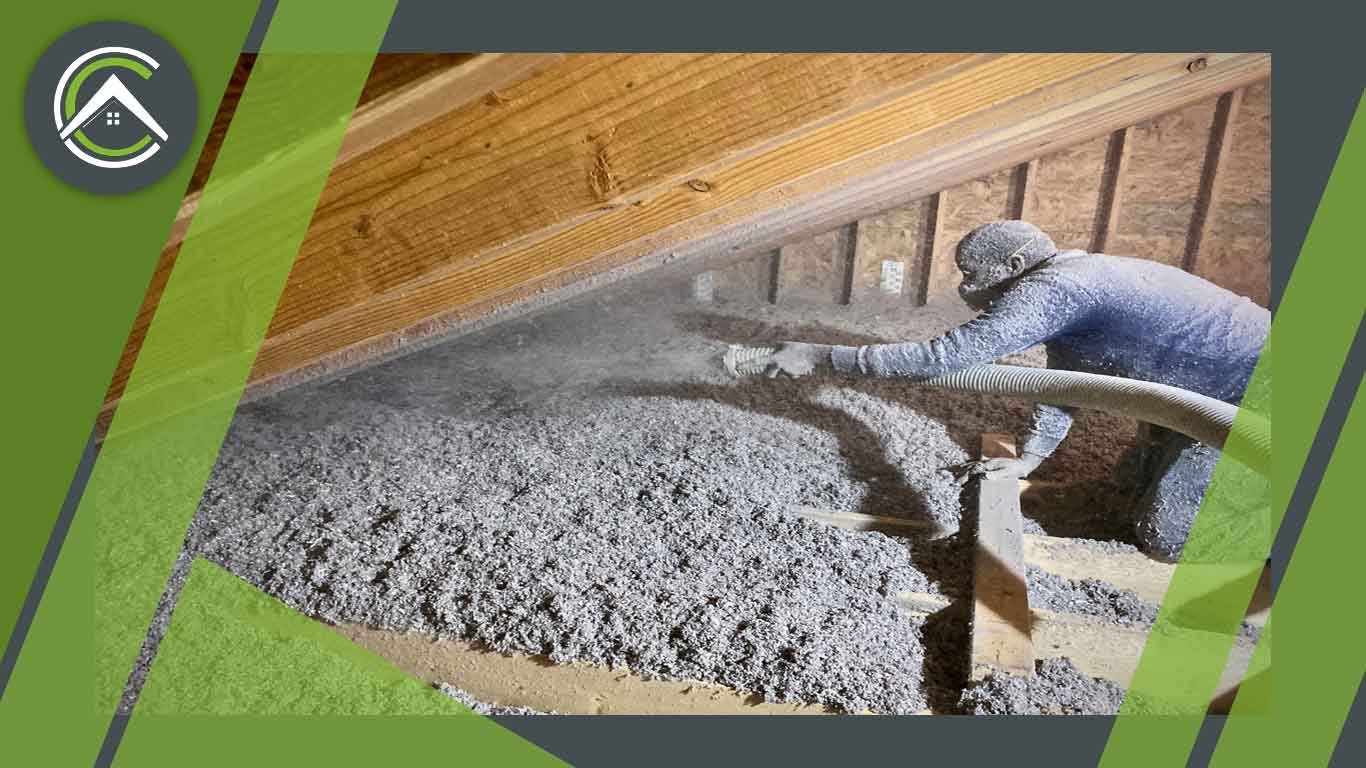 Please note that cellulose insulation should be away from moisture; otherwise, it provides a perfect environment for mold to grow.
Overall, if you seek a sustainable and effective solution for insulating your attic, cellulose insulation can be your choice, as it provides a more energy-efficient, comfortable, and quieter home.
FAQ
Is cellulose environmentally friendly?
Yes, because:
Cellulose is composed of consumer paper products, ensuring the use of renewable resources from planted trees.
Cellulose consists of 80–85% recycled materials.
Need less energy to install compared to other insulation materials.
Overall, insulation materials help you to reduce your energy bills and carbon footprint of your home; however, using cellulose means you choose the eco-friendliest materials to insulate your home.
Can we reuse fiberglass to insulate our home?
Fiberglass insulation can be recycled, easily removed, and then reused again. Additionally, fiberglass can be reclaimed from demolition debris and recycled to create a new product.
Although, compared to cellulose, it's not highly environmentally friendly, it still contains a relatively high amount of recycled materials that can effectively help you insulate your home and save considerable bucks in energy bills.
Confirmed Contracting Corp. for Recycled Blow-In Insulation
Whether you're looking for a professional insulation installer to install blow-in insulation for the first time or are seeking to reuse the existing materials, Confirmed Contracting Corp. has the services you need.
Our specialists, with many years of experience, provide powerful insulation solutions for your home or commercial building. Our services are available in North York, Mississauga, Oakville, Vaughn, Richmond Hill, Markham, Aurora, Newmarket, Toronto, Gatineau, Quebec City, and Montreal. So don't hesitate and call us if you need help.
We offer a range of services, including drywall and attic insulation, as well as bathroom, kitchen, and basement remodeling, as mentioned above. Our comprehensive services and expert solutions are designed to meet all your needs, ensuring optimal comfort and energy efficiency for your home or commercial building. If you require assistance, please don't hesitate to call us right now