Turning the basement into usable space, like an entertaining area, is a great idea. The best part of styling the basement living room is that you can either design it to match the rest of your home décor or choose a completely different style and approach.
Here are some helpful basement living room ideas for those homeowners who do not have an idea of what to do with their space.
The Top Ten Basement Family Room Ideas
Use a neutral color scheme and clean furnishings with plenty of lighting to give your space a modern look with a nice bright feel.

You can use dark furniture and darker walls to create a sophisticated décor.

Make a sizeable pub-style bar with an open-concept style to design the space perfectly.    

Consider leaving plenty of open space in your basement and using windows to create the appearance of an upper level in your home.

You can mount a wall TV surrounded by sports memorabilia to create a place to watch sports or movies with your friends or family.

One of the best 

basement living room ideas

 is to use light-bulb walls and rustic flooring to create a bright space.

If you want a comfortable place to watch movies with your friends or family, try using a large section of traditional design in your area. It's also a good idea to use light blue walls to keep your room bright and open.

A large wall of built-ins with the addition of a large sofa makes your basement a great place for entertaining.

A cozy sofa and oversized recliners give you plenty of space to relax with your family or friends.

Use rusting flooring, granite design, and metal PVC accents to create an industrial look that flows through the bar and bathroom.
Ways to include modern basement ideas
The impact of Modern flooring on the basement living room idea
Some specific floors contrast beautifully with your furniture, giving your overall basement a stunning look. For instance, a dark gray or black floor matches well with all-white furniture.
The best part about flooring is that if you have limited options, you can layer rugs on your floor to achieve the desired contrast or blend.
You can also use marble, certain tiles, or concrete for your flooring to create a beautiful modern look.
Build a modern bar in your basement.
A modern bar is one of the best basement living room ideas, especially when some metal is incorporated. For this purpose, you can go with silver, chrome, gold, or brass in your bar space. A bar cart is always fantastic for those looking for economical options since modern design cannot tolerate lots of clutter.
If you have enough space, think of adding a floating island. It provides storage space for all your different wines and liquor bottles. It is also good advice to use marble in your top bar.
The sky is not your limit for those with the money to spend lavishly at a bar. A marble top bar with a mirrored side is another great idea for remodeling the basement. This idea makes the space appear larger than it is. Moreover, think of having a back bar to show off your all-pleasing alcohol.
Modern walls for 
basement living room décor
When it comes to modern basement living room ideas, less is more. So, an excess of texture on the wall cannot be acceptable.
Matte black, dark gray, or white are the perfect colors for modern basement walls.
Here is a delicate point: white walls are not family-friendly because no one likes to continually clean kid art off the walls.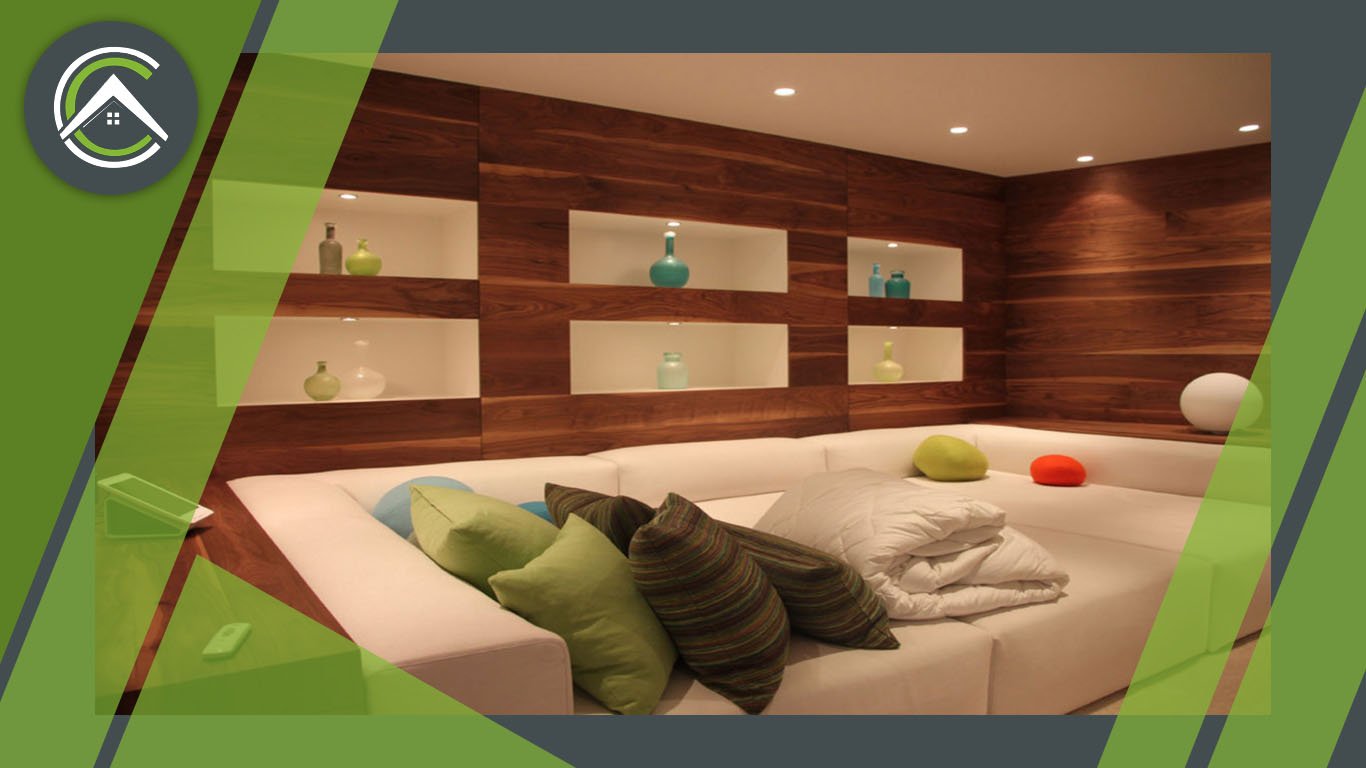 Basement family room ideas: ceiling concept
As mentioned before, the modern design goes well with a clean, sleek look and with a bit of texture. Therefore, the appearance of the ceiling should be pretty straightforward.
An all-black or all-white ceiling is a good choice for a modern style. Remember to select a ceiling fan that contrasts with your ceiling (for example, a black ceiling fan for a white ceiling). A ceiling fan and a beam running the space length are all textures you can add to your ceiling.
Bathroom for modern basement ideas
A modern bathroom should be clean, sleek, and uncluttered. You can choose some beautiful marble-looking tiles to make your shower design look more expensive than it is.
Additionally, different fixtures with metallic or gold colors can provide a look everybody enjoys. 
Again, we recommend using contrasting floor and shower tiles, such as black and white, for the sink and toilet. However, you can make a beautiful contrast with any color if you let your creativity flow through.
Some points for choosing the décor of modern basement living room ideas
There are various textures, colors, and shapes that you can select while remaining faithful to a monochromatic scheme.

Overdoing should be your more critical concern.

When it comes to modern décor ideas, consider fake plants or some plants that don't rely heavily on sunlight.

Different types of art and mirrors are the other popular inclusions.

Consider whether economic frames match the theme of your space.
Small basement family room ideas
You may think that the small square footage of your basement is not a good place for furnishing. But by turning it into a functional space, you will have extra rooms and add value to your property.
Here are some inspirational ideas for remodeling your small basement.
Basement living room ideas: create a cozy den.
If your space is dark and trims with a low ceiling and no windows, you can turn it into a cozy room by considering the right amount of electrical lighting, like spotlights, wall lights, floor lights, and table lamps.
Remember, if your ceiling is low, use low-ground and compact furniture to make your space appear larger.
Make a small, cozy basement living room by Adding a second room.
One of the best small basement living room ideas is to add a second living room. It's essential for those who have kids.
If your ceiling is low, select low-slung furniture with a simple neutral color scheme to keep your area airy and bright.
Here are some ideas for small basement renovations:
Wooden accents with brown leather are perfect for small areas that make your space vibe and warm up.

Create a beautiful contrast with white or light gray walls with dark accent walls.

Create a feeling that is more masculine and moody by using odd wall accents and dark or black leather for throw pillows.
Use a sliding door to split apart your space.
Sliding doors provide the privacy you'll need while inducing an open concept. They are perfect for gloomy spaces because they allow light to flow into the darker areas.
Turn your small basement into a guest bedroom.
One of the best small basement living room ideas is to turn it into a guest bedroom. If you have windows in your basement but do not let a lot of light into the room, you can maximize the light around the windows by using several artificial lights in the shape of cute soft lamps, wall lights, and overhead lights. It is also good advice to choose light and floating window treatments like the mixture of blackout roller blinds and lovely voile curtains.
Use darker colors.
We recommend darker colors for those who are into dark and dramatic interior design. There is a misconception that dark colors make the space appear smaller, but they can go well in small areas and give you the feeling of coziness and co-orientation. 
Build a home gym
One of the other budget-friendly small basement living room ideas is building a home gym. It's an excellent option to add speakers & air conditioning, lay rubber flooring, and mount some pegboard on the walls for your bands and weights to give your home gym the feel of a real gym.
The other ideas for a small basement living room décor
Create a game room.

Create a cinema room

Turn the space into a home office.

Use the small space for storage.
And lastly,
Are you looking for the best basement family room layout ideas and looking for professionals to help you turn your gloomy space into a light and stylish room?
We at Confirmed Crop are ready to help you build your own space perfectly on a budget.