A basement is a place that is frequently overlooked. However, with a few simple renovation ideas, you can transform the overall appearance of this gloomy, chilly, and dark space into a cosy, warm, welcoming, and comfortable place to hang out with your friends or family members.
On the other hand, basement renovation ideas not only improve the appearance of your basement but also significantly increase the total value of your house.
Do you have any ideas for giving your basement the look you wanted? Here are some inspirational ideas that tell you how you can remodel your basement and create a more functional and stylish space on a budget.
Basement renovation ideas on a budget
Wall and ceiling paintings
One of the simplest and least expensive basement renovation ideas that significantly enhances the appearance of your room is to paint the walls and ceiling. You can give your space a new look on a budget with a few coats of paint. Due to advances in paint technology, primer is frequently included in the paint, so you can start working immediately.
We recommend choosing light colours to have a fresh, modern, and stylish look. Additionally, try to use antibacterial or antimicrobial paint for the best protection and repel any moisture and mould.
Creating room storage
Adding storage (like shelving units for toys and books, cabinets for your favorite pictures, or storing craft supplies) is one of the best basement renovation ideas to improve organization and create more functional space.
Another good idea to keep your space clean and uncluttered is to consider a laundry room in your basement.
Use new lighting fixtures.
One of the best budget-friendly basement remodel ideas is to transform the overall appearance of your basement by installing new lighting fixtures, like recessed lighting. You'll need only a few hours to install recessed lighting, and at the end, you'll be amazed at how this simple task could enhance the light in your dark spaces.
We suggest you add sconces and table lamps to improve the light in the reading corner of your basement. Also, using ceiling cans and CFL or LED bulbs is a great idea to ensure you're getting enough colour in your light while using less energy (only ¼ energy).
And finally, don't forget that you can add elegant, museum-quality lighting to your new cabinets. It helps you better showcase your valuable possessions.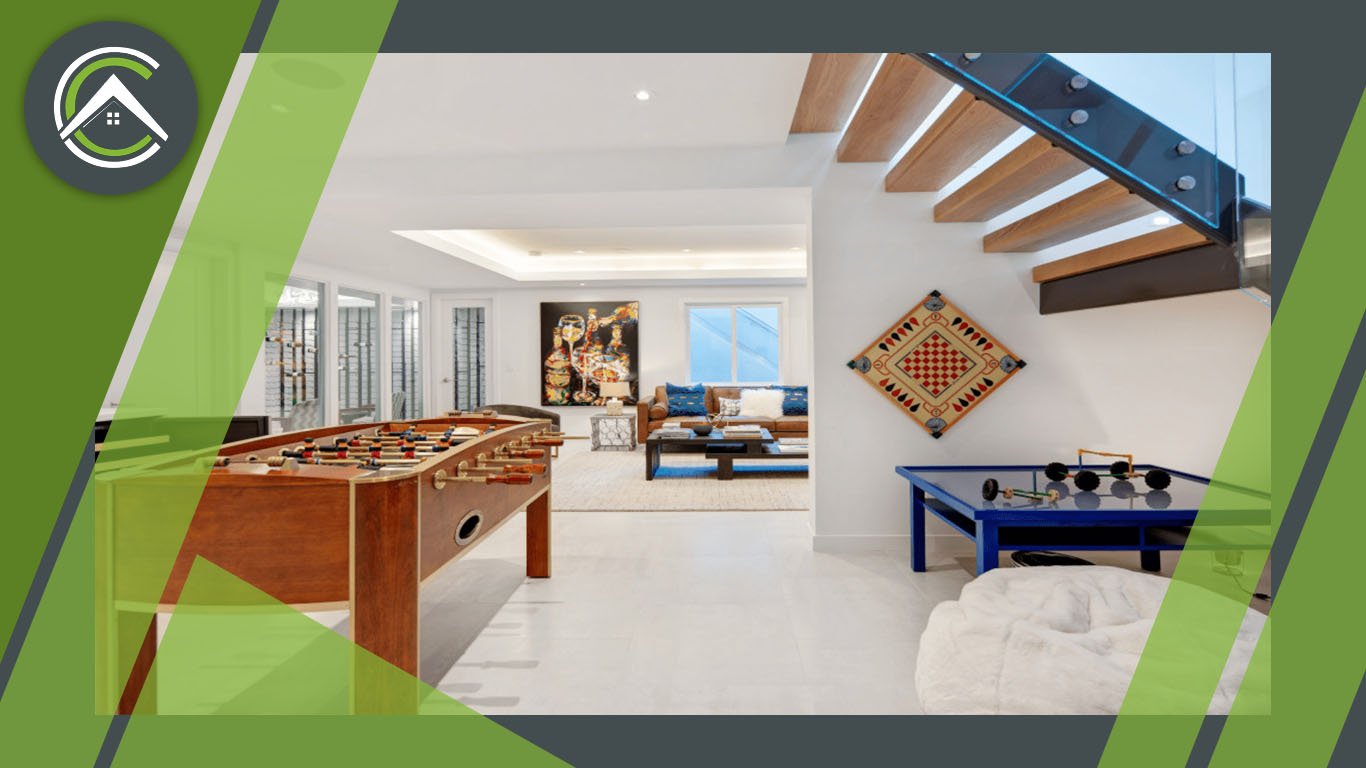 Paint or stain the floor.
When it comes to basement renovation ideas, using carpet in the basement can be a good idea because the basement is a place that is frequently cool and damp. So, we advise you to stain your floor to give the room some warmth.
 Select a colour
One outstanding option is choosing a colour palette that contrasts your walls. For instance, use a dark stain for a rich, natural-looking wooden floor if your finishes are white.
Install easy-to-flooring
The other budget-friendly basement renovation ideas are to install easy-to-flooring to create a modern look. Fortunately, many current flooring options on today's market can be easily placed on the basement floor.
There are affordable options that can add an elegant look to your space:
Hardwood

Laminate

Carpet tiles

Tile (perfect for damp areas)
Decorate your space.
When you think of basement renovation ideas, you don't need to spend a fortune to makeover your basement. Pick up brand-new ones at your neighborhood's thrift store or gently used decorative pieces that can improve the appearance of your basement.
Don't forget that secondhand shops have tons of fantastic building supplies that can transform your overall space amazingly. Knowing that you are purchasing high-quality goods within your price range gives you peace of mind.
Get rid of musty odo

urs from the air.
Before starting basement remodelling, spend some time clearing the air. Due to moisture and dust, unused basements can eventually smell musty.
The best solution is to use a dehumidifier to help pull out the moisture from the air. This approach will help you determine whether you need to insulate your basement to increase airflow and reduce moisture levels.
Employ experts to adhere to building codes.
Regarding basement renovation ideas, follow all local code guidelines accurately.
Working with qualified home improvement experts, like the experts at Confirmed Crop Company, will ensure you comply with all the standards. For example, if you want to construct a basement apartment, you should consider a big window to provide an escape route from the fire for its residents.
If you don't follow the building regulations, you should expect a stop-work order or hefty fines.
The home basement renovation experts at Confirmed Crop will ensure you have all the required materials and have made all the proper design choices based on your local building codes.
The Other Factors You Need to Consider When You Think of Basement Renovation Ideas
Basement storage space
A small space for extra storage will attract the attention of any future buyers and save you considerable costs when finishing the basement since storage areas don't need finished walls.
Unfinished ceiling lighting
If you leave the unfinished ceiling, you'll need different routes for your ceiling light. In cases like this, the combination of pendant lighting features and track lighting can work well. Moreover, pendant lights add a touch of high design, while track lighting ensures the colour and tone are balanced.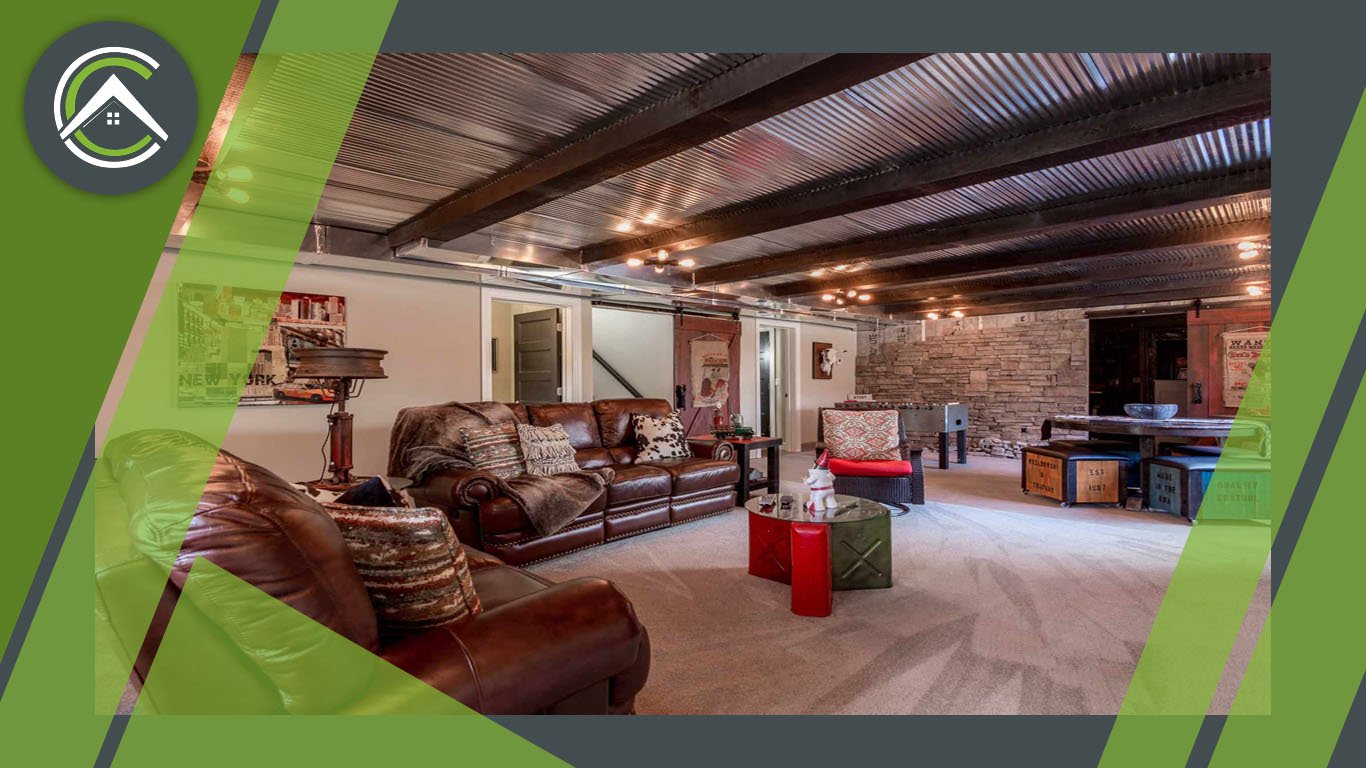 Basement renovation ideas for small spaces
Save space
Make your room appear bigger.
The key tactics to achieve this goal are:
Choose an open concept and avoid adding walls.

Avoid bold colours for walls.

Use neutral colours to make your room appear larger.

Have a great lighting plan and have different light sources like wall sconces, tables, and floor lamps.
Developing storage space
Since you don't have much more space in your small basement, you'll need to install customized storage. Dedicated storage and hidden compartments provide more space for furniture or decorative accents.
Small basement renovation ideas: focus on the layout
A well-thought-out design is a crucial factor in saving space. In this regard, you can consider a completely open concept or split the area into multiple rooms.
Budget-friendly basement bedroom ideas
Below, there are creative concepts that help build a basement bedroom on a budget:
Strategically implement small accents.

Install bright lights to make your room lively.

Using soft paint tones like greys or whites

Go with an open concept to make your space feel larger than it is.
Colours
Adding a pop of colour works well with the natural dark space of the basement. Focus on the colour of small elements like pillows, carpets, and even wall patterns to have a room with multiple vibrant colours.
With a contemporary twist.
Regarding basement bedroom ideas, a cosy cabin, tropical paradise, or a minimalist design are a few neat ideas for designing a unique and stylish look.
Keep everything simple.
If you are searching for basement renovation ideas to rent it out later, always go with a simple concept because it makes your space more comfortable. For this purpose, try to use white or grey tones, basic furniture, and simple lighting.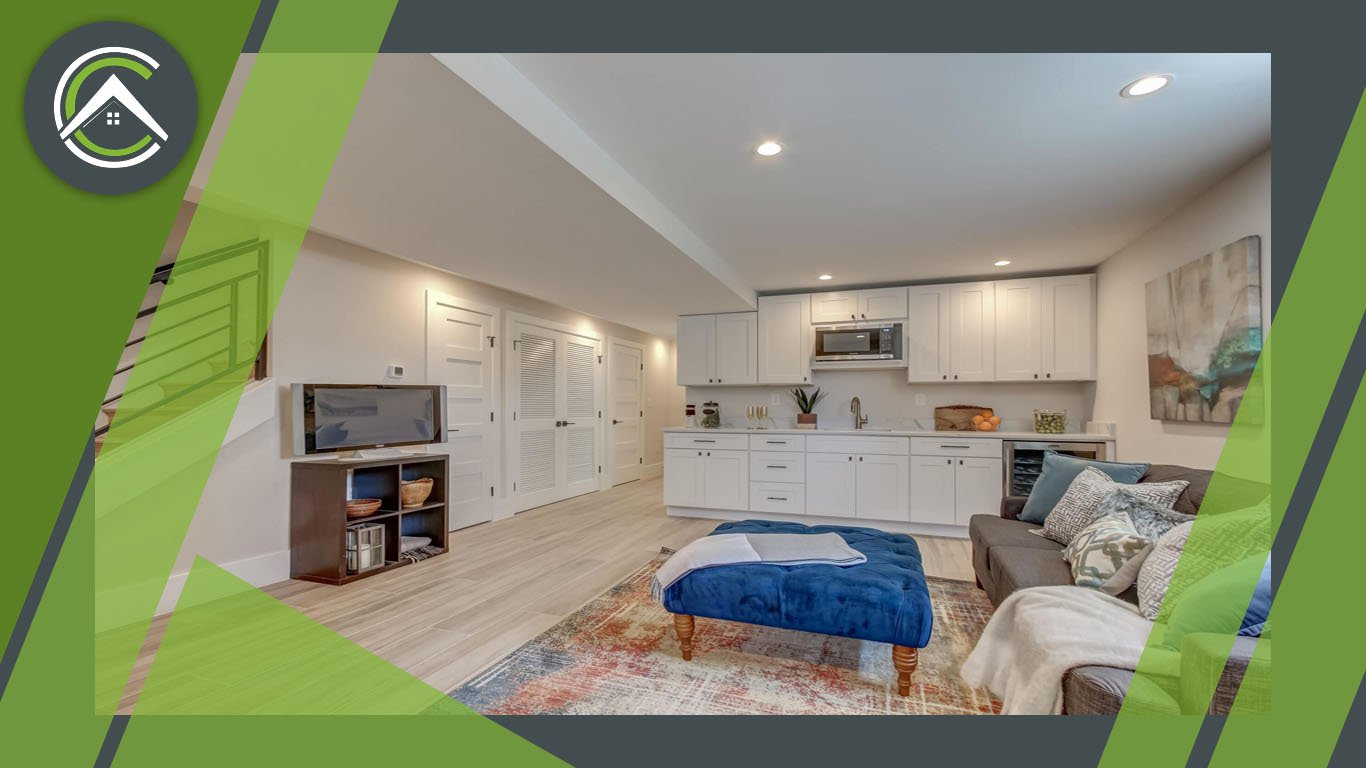 Size up
Adding mirrors to the basement bedroom's wall is a great way to make a small space feel larger than it actually is. This simple trick creates the illusion of spaciousness and causes maximum basement lighting. Remember to use light pastel colours for the walls.
Keep it warm.
Installing radiant heating under the floor is a great heating system for a bedroom basement. We recommend installing sub-floor heating because it is chic and energy-efficient, which saves you from the hassle of a chimney that needs wood and can also prevent the risk of a fire hazard.
Reuse old furniture.
If the budget is your concern, try to use old furniture if it is still in good shape.
Common Mistakes in Basement Layout Ideas
When it comes to basement renovation ideas, there are some mistakes that you should avoid if you want your project to go well.
Renovation of load-bearing walls
Regarding basement redo ideas, load-bearing walls play an important role in building codes. You'll expose yourself to extra fines or work-stop orders if you ignore them.
 More oversized basement doors and windows
When you want larger doors and windows in your basement, the main thing is to support them from above and below because a window or door in the basement can create a gap (more or less) in the function. So, the idea that the structure will remain intact after removing a masonry wall section is entirely impractical.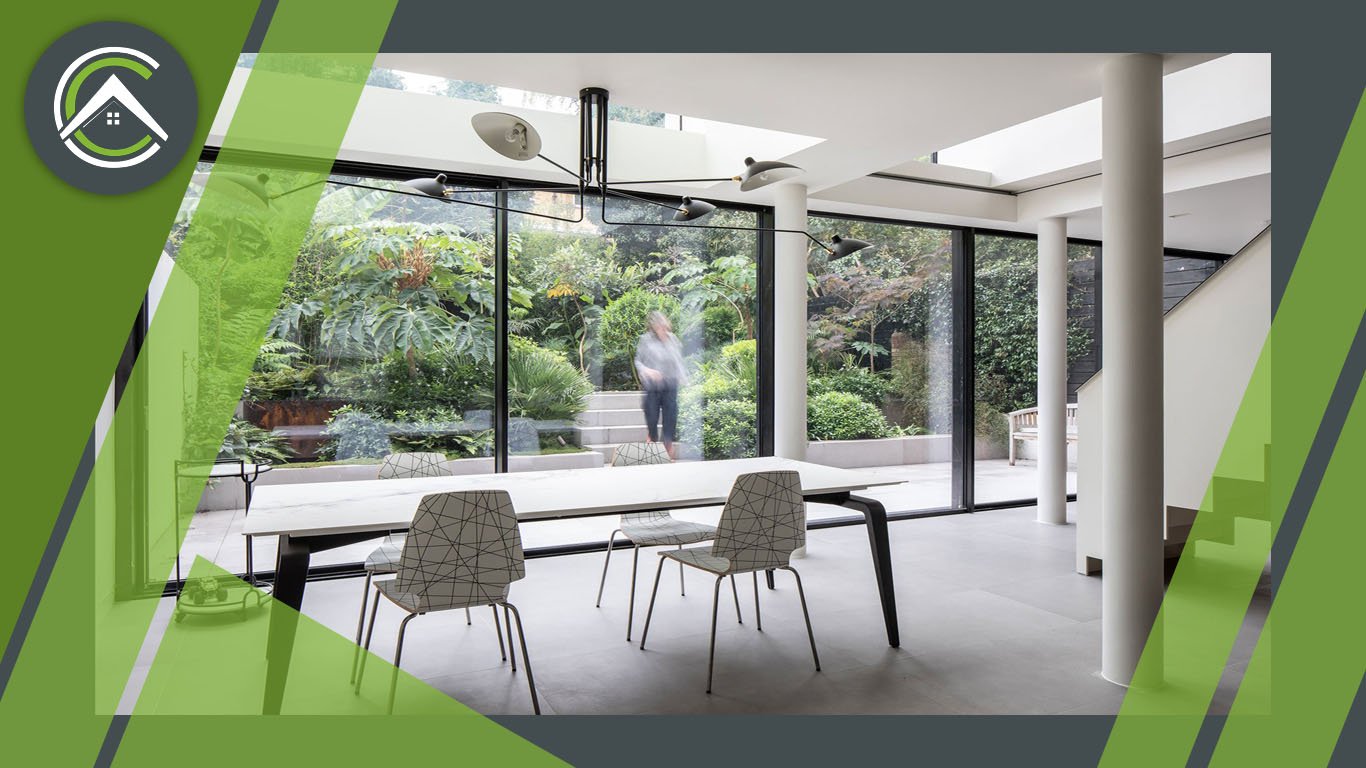 Jump into the project before getting a permit.
Obtaining a permit is not an expensive or complicated process. These permits are always obligatory if your project requires structural changes. Your contractors or municipal inspectors can catch it.
Uncertain about the basement insulation
Regarding basement layout ideas, you should insulate the basement properly to prevent mould or mildew from forming because mould spores are the root cause of severe health issues. It also keeps your basement warmer during cold weather and cool during hot summer months.
Failure to control mould.
Water is the worst nightmare for almost all homeowners. Due to the porous structure of concrete, moisture will eventually find its own way through. Due to that, sub-flooring is an excellent idea to air out the basement and prevent mould properly.
Before going through the permit process, we advise you to ask professionals to help you handle all measurements and floor designs.
The following chart helps you find out when you do or don't need permission:
| | |
| --- | --- |
| Need a basement permit | Don't need a basement permit |
| There are material or structural changes. | If there have been no structural or material changes. |
| Extra-legal suites were added. | No new apartment buildings were built. |
| Adding extra-legal suites or upgrading piping or heating system | The original plumbing remains in place. |
| Excavation or substantial construction | |
| Creating a basement exit or entry | |
| Constructing a fireplace or chimney | |
| Underpinning the building being done | |
Do not consider adding enough lighting.
Regarding basement renovation ideas, considering enough lighting fixtures and strategically placing windows always play the leading role in maximizing the light.
The top five basement remodelling ideas for 2022.
One of the great things about basement remodelling is that you can decorate it however you'd like, regardless of the rest of your home décor.
Many basement development ideas can inspire you to create a unique and stylish space here.
Ceiling lights and a fireplace
Adding a series of ceiling lights and excellent features against the brick wall can bring light into the dark space and turn it into an inviting and warm space. Ceiling lights make a home appear larger than it actually is. Moreover, the fireplace and its combination with the wall give the room an outdoor feel and a classical look.
The wall-mounted television
Regarding basement living room ideas, nothing is better than installing a mounted TV and comfortable seating. You can use an area rug to make your room warm and comfortable.
Black & white contrast and open concept
Black and white contrast creates a stunning design.
When it comes to small basement renovation ideas, nothing is better than an open-concept idea. Because it provides free movement through the space while interacting with other family members and encourages optimal space utilization without the need for divider walls, you can also use paint or other subtle methods to divide the space creatively. The only drawback to the open floor space concept is the lack of privacy.
The other important issues
Set the furniture in a way that creates a natural division in the living room and makes a good design for watching TV or playing a family board game.

The combination of wooden floors with wooden pillars and other wooden fixtures gives your space a beautifully rustic and traditional look.

Pay enough attention to the colour of the doors because they can add character to your room. Bold colours for doors are a beautifully 

finished basement design

, especially when the rest of your space has a little colour. Always remember that colours can amazingly brighten up the room.

Building a bathroom in your basement not only adds to the total value of your property but also provides more convenience for all residents.

If you have a small basement, installing a powder room with a high-efficiency toilet is a good idea as creating extra storage space under the vanity instead of a full bathroom
Finished basement layout ideas
There are various options to brighten up your dull and dark space and customize it the way you're always looking for.
Finished basement designs cannot be overwhelming if you know what exactly you're looking for: an entertainment room, a sauna or spa room, a gym, etc. By relying on the skills and creativity of Confirmed Crop teams, you can create the space you've always desired.
Finished Basement Layout Ideas at Confirmed Crop
Regarding basement renovation ideas, the only thing we're eagerly seeking is to make everything as easy as possible for you. Whether a simple basement makeover or a full overhaul, our process is always meticulous, thorough, and detail-oriented. 
No matter what your true intention is — a legal suite to rent out, a place for your kids and their toys to play, or building a home office — if you want your project to be completed flawlessly, rely on our professional and skilled contractors at the confirmed crop.