Unlike what you think, painting the bathroom can be a quick and easy way to update your space. Whether you're looking to upgrade the color scheme or simply want to freshen up the room, a new coat of paint can make a big difference.
Below, we'll go over everything you need to know to successfully paint your bathroom, including tips for preparing the space, choosing the right paint, and getting a professional-looking finish. So, grab your paintbrushes, and let's get started!
Painting bathroom: preparation
Painting bathroom preparation is a significant step in the process, as it ensures that the paint will adhere properly and last for as long as possible. First, remove any fixtures or hardware, such as toilet paper holders, towel racks, and light fixtures. This will make it easier to paint the walls and will also help to prevent any accidental drips or smears.
Next, clean the walls and ceilings of the bathroom to remove any dirt, grime, or mildew that may have built up over time. Use a mild detergent and a sponge or a rag to clean the walls, paying extra attention to areas around the sink, toilet, and shower. If you have mold or mildew, it's important to kill it with a solution of one-part water and one-part bleach before cleaning.
After cleaning, allow the bathroom to dry completely. Now is the time to patch any holes or cracks in the walls or ceiling. Sand the patched surfaces, then wipe them down with a damp cloth to remove dust.
Finally, it's a good idea to use a primer before applying paint, as it helps to seal any stains or uneven surfaces and provides a smooth surface for the paint. Make sure you have all the proper tools and equipment, including paint brushes, rollers, paint trays, and drop cloths, to make the process as smooth as possible.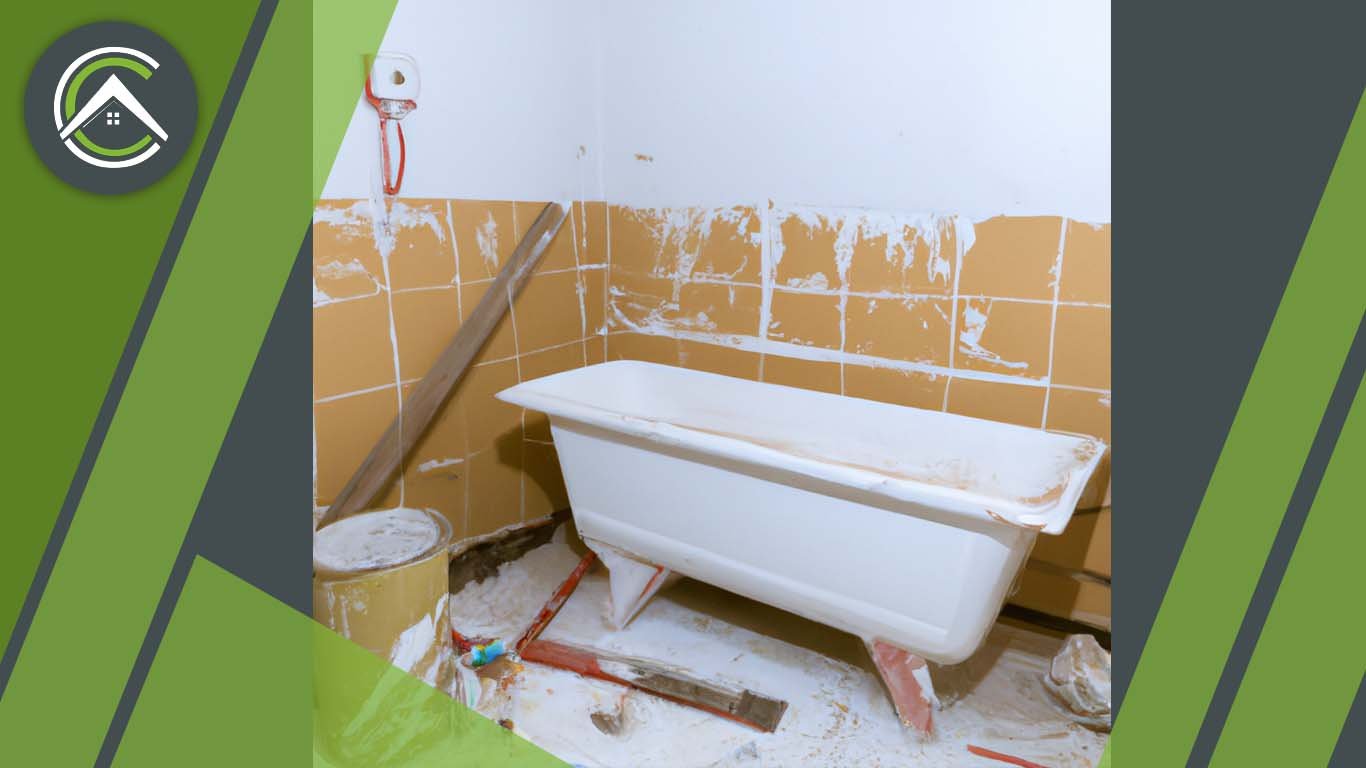 How to choose the right paint for the bathroom wall?
When it comes to painting bathroom walls, you should choose a paint with high resistance against moisture. Remember, consider the finished look. A semi-gloss or high-gloss finish is best for bathrooms, as it is moisture-resistant and easy to clean. These types of finishes will also help to reflect light, making the room feel brighter and more spacious.
Remember, look for paints with the labels "moisture-resistant" and "mildew-resistant."
When it comes to color, it's a good idea to choose light, neutral colors for your bathroom. Light colors will help to reflect light and make the room feel larger, while neutral colors are timeless and easy to coordinate with any decor. Remember that colors like yellow, red, etc., can be overwhelming and hard to match with other elements in the room.
It's also important to consider the type of paint you'll be using. We advise you to choose water-based paint because, unlike oil-based colors, it dries quickly and is easy to clean.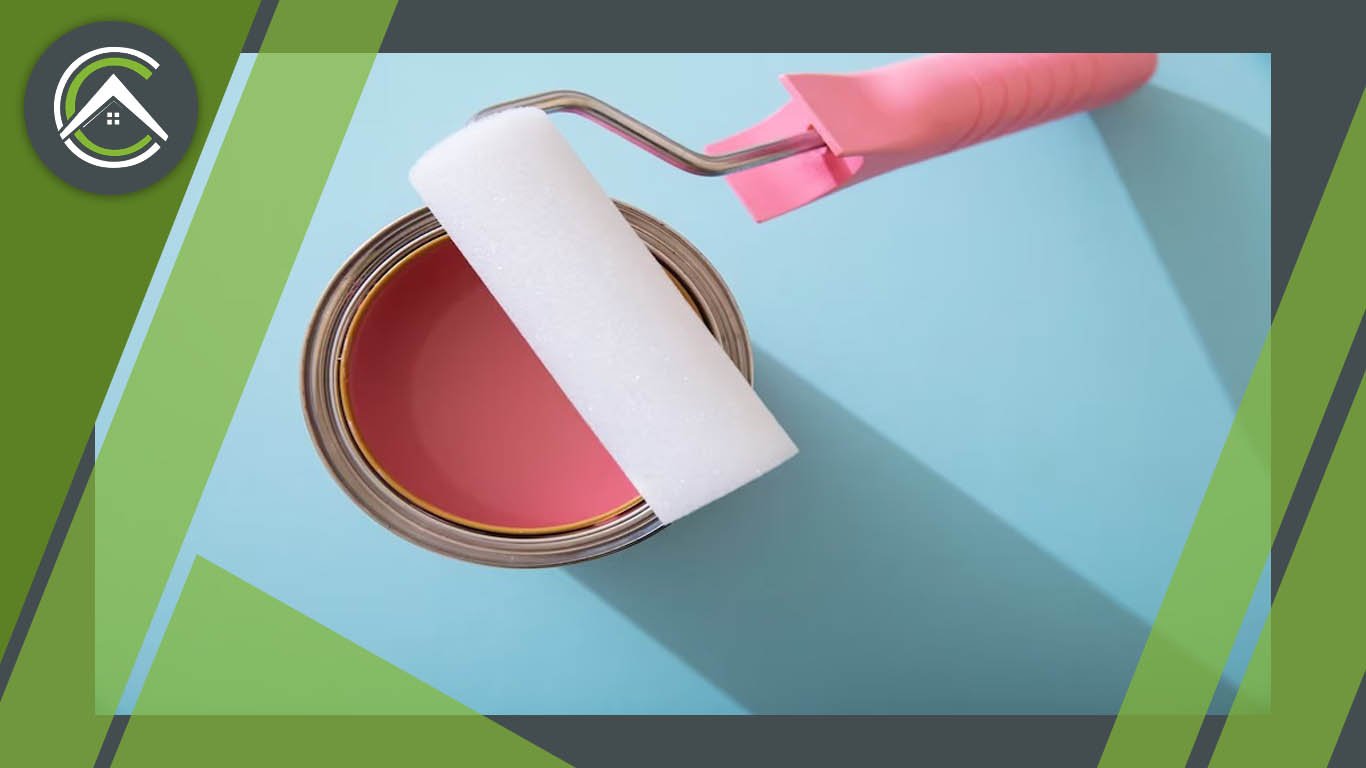 Summary:
Consider the following before painting your bathroom:
The paint's finish.
Durability
Color
Type of paint
opts for moisture-resistant paint that's easy to clean.
Painting bathroom tiles
Painting bathroom tiles is a great way to give your bathroom a fresh new look without the cost and hassle of a complete remodel. However, it's important to note that not all tiles are suitable for painting, and the process can be quite labor-intensive.
Before you begin painting the bathroom tiles, it's essential to prepare the surface. Clean the tiles thoroughly with a degreaser or a mixture of water and white vinegar to remove any dirt, grime, or soap scum that may have built up over time. Next, use a tile cutter or sand the tiles lightly to roughen up the surface; this will help the paint adhere better.
Keep in mind that you should choose a paint that is designed for use on ceramic tiles. These types of paint are formulated to adhere to the glossy surface of ceramic tiles and will provide a durable finish that can withstand constant moisture.
Before applying the paint, it's important to mask off any areas that you don't want to paint, such as the grout lines. Use a high-quality paintbrush and roller to apply the paint. This will ensure that you work in small sections at a time. Once the paint is dry, you may need to apply a second coat for full coverage.
Remember, painting bathroom tiles can be time-consuming, and it may take several days for the paint to dry completely. It's also important to note that the color of the paint may appear differently on the tile than it does in the paint can or on the paint chip.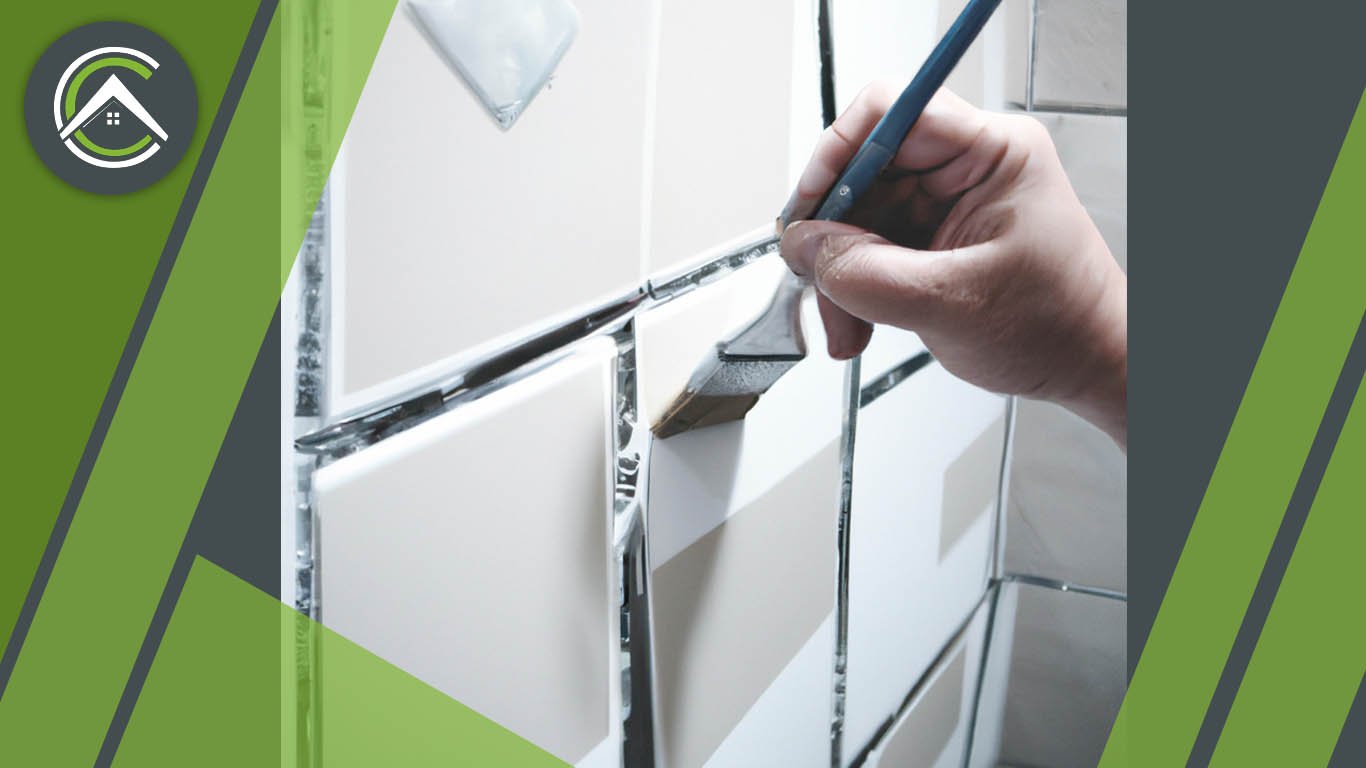 Summary:
Painting bathroom tiles can be a great way to update the look of your bathroom, but it's important to choose the right paint, prepare the surface properly, and have patience with the drying time. With a little bit of elbow grease and the right tools, you can give your bathroom a fresh new look that will last for years.
Painting bathroom ceiling: the step-by-step guide
Step 1: Clear the bathroom of any objects.
First, clear the bathroom of any objects (like toiletries) that you don't want to drip paint on.
Use a drop cloth or plastic to cover up the vanity, bathroom sink, bathroom faucet, etc.
Step 2: Clean the ceiling.
Before painting the bathroom ceiling, clean the surface from any dust, cobwebs, or mildew that may build up over time. To do this, use trisodium phosphate (TSP) and a scrub brush.
You may also need to patch any holes or cracks and sand the surface to provide a smooth surface for the paint.
Step 3. Time to prime.
Now, it is time to prime and seal. We use primer because it makes the paint last a long time and lessens the risk of mildew growth.
Point 1:
Before painting the bathroom, you need to wait a while for the primer to dry. This wait time is specified by the manufacturer.
Point 2:
If you notice mold stains after the drying period, apply a coat of primer again.
Step 4: Apply the proper paint.
Grab a paint roller or short-handled angled paintbrush. If you have to deal with ceiling mold, choose the anti-growth mold. You may also want to mix the paint with an anti-fungicidal additive. However, we do not recommend this because you must know exactly what properties to mix.
Now, you should wait until the paint dries.
A point:
Always opt for paints that are designed for areas with high moisture content.
Some popular colors for painting bathrooms
White bathroom paint
The bright-white bathroom is a classic neutral color that can be easily dressed up with many textures and layers.
Look at straw baskets, shiny glass tiles, and salvaged wood to see how they amp up the bathroom's style.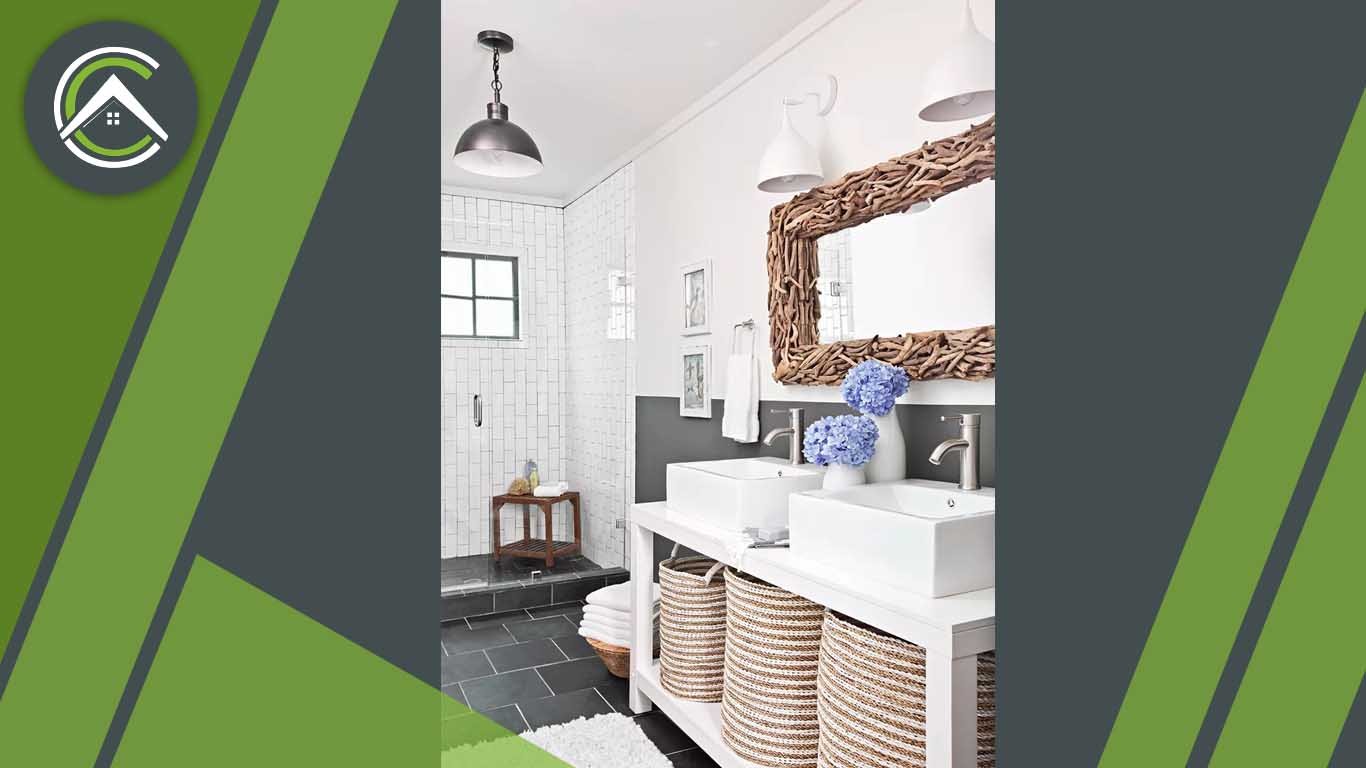 Grey bathroom paint
One of the inspiring colors for painting the bathroom is the combination of shades of grey and blue with soft cream trim to achieve its soothing attitude.
A few dashes of black give the space a modern update, and an accent band around the room's edge carries the color scheme and dramatically enlarges the space.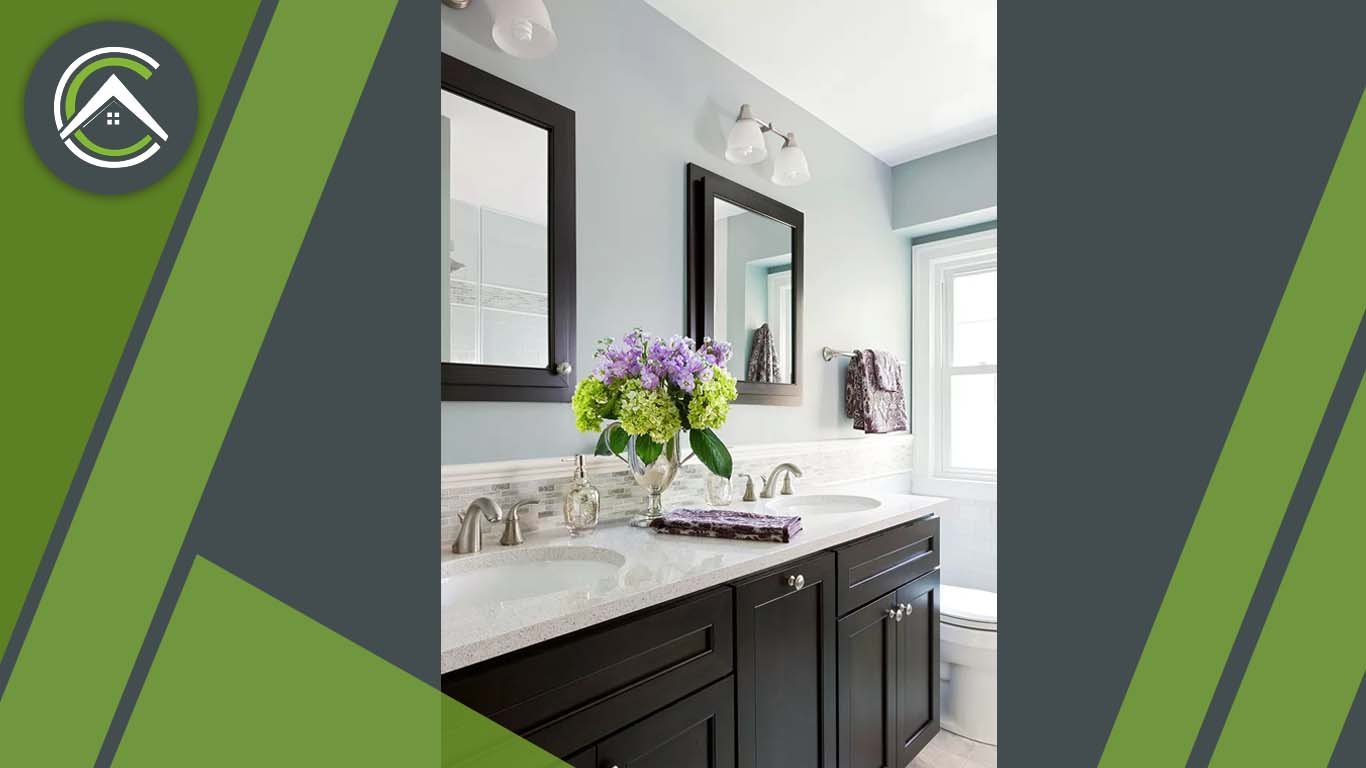 The other idea for a classic grey bathroom is to use grey granite and concrete. Dark wood floors help to warm up the color, and dazzling white trim gives contrast that helps to avoid a dull appearance. As you can see in the below image, a black vanity offers the final touch of sophistication we have always sought.
Green bathroom paint
Are you craving a calm appearance for painting the bathroom? Look at this beautiful soft shade of leafy green bathroom that has a complementary sandy beige backsplash. As seen in the image, the bathtub paint is white in contrast to the rest of the colors, creating breathing space.
Powdery pink bathroom paint
Soft pink paint for bathroom walls offers a delicate backdrop for snowy white accents.
The bathroom's paint color, charming, beaded board, and shimmering silver finishes prevent the space from appearing excessively girly. A warm tone is a good choice for bathrooms with limited natural light because it is not overpowering in a small space.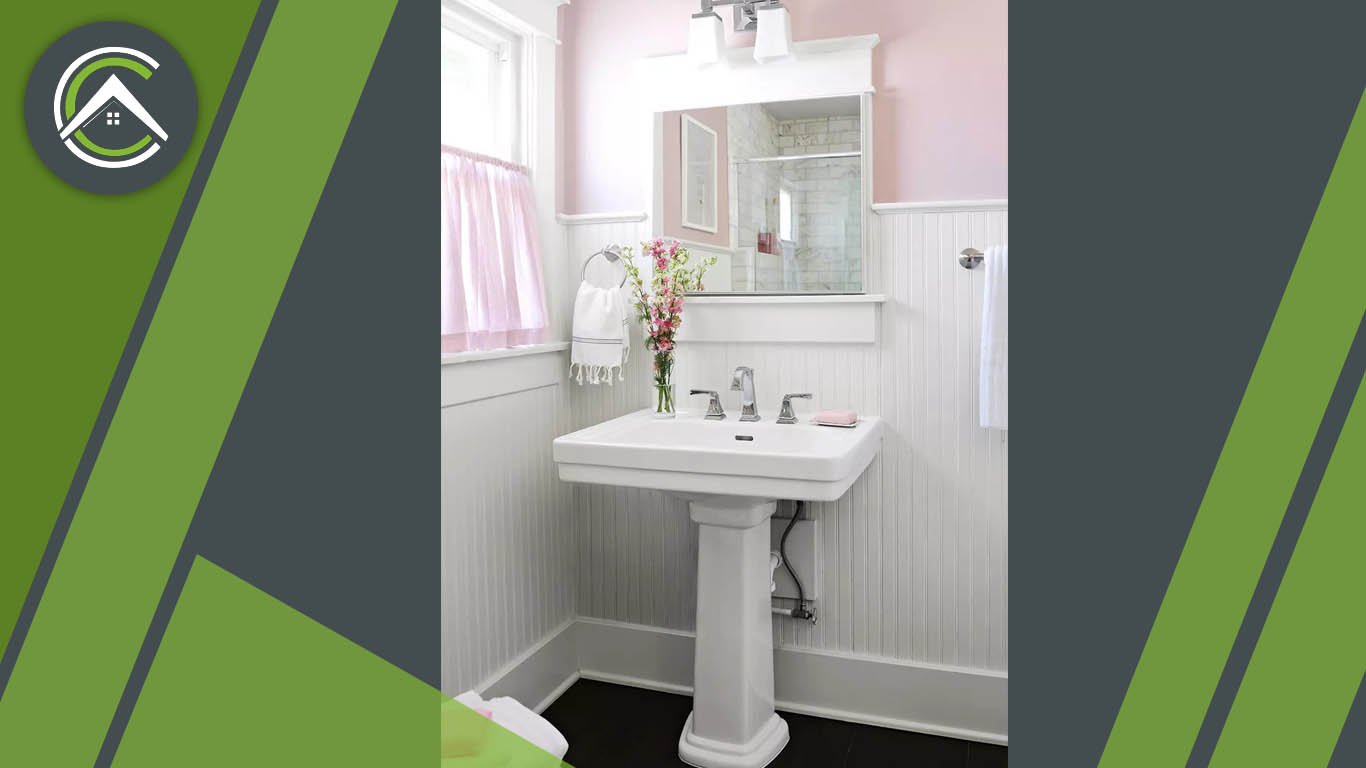 Black bathroom paint
Painting the bathroom black can create a sleek and modern look if combined with creative accent colors. Remember, black paint absorbs light, making the space feel smaller and more intimate. And on the other hand, it can make the bathroom feel more luxurious and upscale. So, before committing to black paint, estimate the size and amount of light in your bathroom.
We also recommend using semi-gloss or high-gloss paint because it's easy to clean and has high-durability.
Blue bathroom paint
One of the beautiful colors for painting the bathrooms is navy blue since it is clean, chic, classic, and noteworthy. This color can inspire all bathroom styles, like traditional, preppy, and nautical.
In the below image, you can see the combination of navy blue paired with white, creating a stylish contrast.
Painting bathroom cabinets
Painting bathroom cabinets is a great way to update the look of your bathroom without a major remodel. It is a cost-effective and easy way to give your bathroom a new, stunning look. Before you begin painting, prepare the surface of the cabinets by cleaning them and filling any holes or gaps with wood filler. Sanding the surface will make it easier for the paint to stick. Using a primer specifically made for wood surfaces is highly recommended, as it will help ensure proper adhesion and a smooth finish.
When it comes to selecting paint for your bathroom cabinets, choose a water-resistant one with hight-durability.
It's time to start painting after you've prepared the surface. Use the right tools, such as paint brushes and rollers, to ensure a smooth, even coat. You have to give the paint time to dry completely.
Painting bathroom cabinets requires a little effort, but the results are well worth it. You can enjoy a newly updated bathroom that looks fresh and modern.
FAQ
Q: What is the best paint for bathroom vanity?
A: The best paint for bathroom vanities is water-resistant, semi-gloss, or high-gloss paint. These paint types are durable and easy to clean, making them ideal for high-moisture areas like bathrooms.
Q: What is the best way to paint bathroom floor tiles?
A: Using specialized tile paint or epoxy paint for bathroom floor tiles is one of the best options because they are designed for tile surfaces and are durable enough to withstand foot traffic and moisture. To achieve the best result, thoroughly clean the surface (before painting) and apply multiple coats.
Remember that if your tile is in poor condition, you can have it painted. In this case, painting camouflages the issue and makes it hard to detect.
Q: What is the best color for bathroom ceiling paint?
A:  The best paint for the bathroom ceiling is a light, neutral color. This can be a white or off-white color, as it will help reflect light and make the space feel brighter and more open. Light colors can also help to make a small bathroom feel larger. Additionally, they are less likely to show stains or discoloration from moisture, which is a common issue in bathrooms. However, you can also choose a color that matches the overall aesthetic of your bathroom if you want to make a statement.
 Q: Can I paint my bathroom wall tiles?
A: Yes, you can paint bathroom wall tiles, but you should use specialized tile paint, designing for tile surfaces. It's worth noting that painting bathroom wall tiles can change the appearance of the tiles, but it may not last for long and will not change the texture, quality, or durability of the tiles. It's also important to consider that painting tiles may void any warranty on the tiles, and it may become difficult to remove the paint if you want to change it later.
Final words
In conclusion, painting the bathroom is a cost-effective and easy way to give your bathroom a fresh new look. Whether it's the walls, cabinets, floor tiles, or the ceiling, a new coat of paint can completely transform the space. However, to ensure a smooth, durable finish, you need to thoroughly prepare the surface and use the appropriate paint type.
We at the ConfirmedC team can help you with any bathroom painting project. Our expert team will guide you through the process and ensure that your bathroom is transformed into the space of your dreams.